Dit keer een beetje een aparte aflevering van de blog... met een van mijn katten als gastauteur...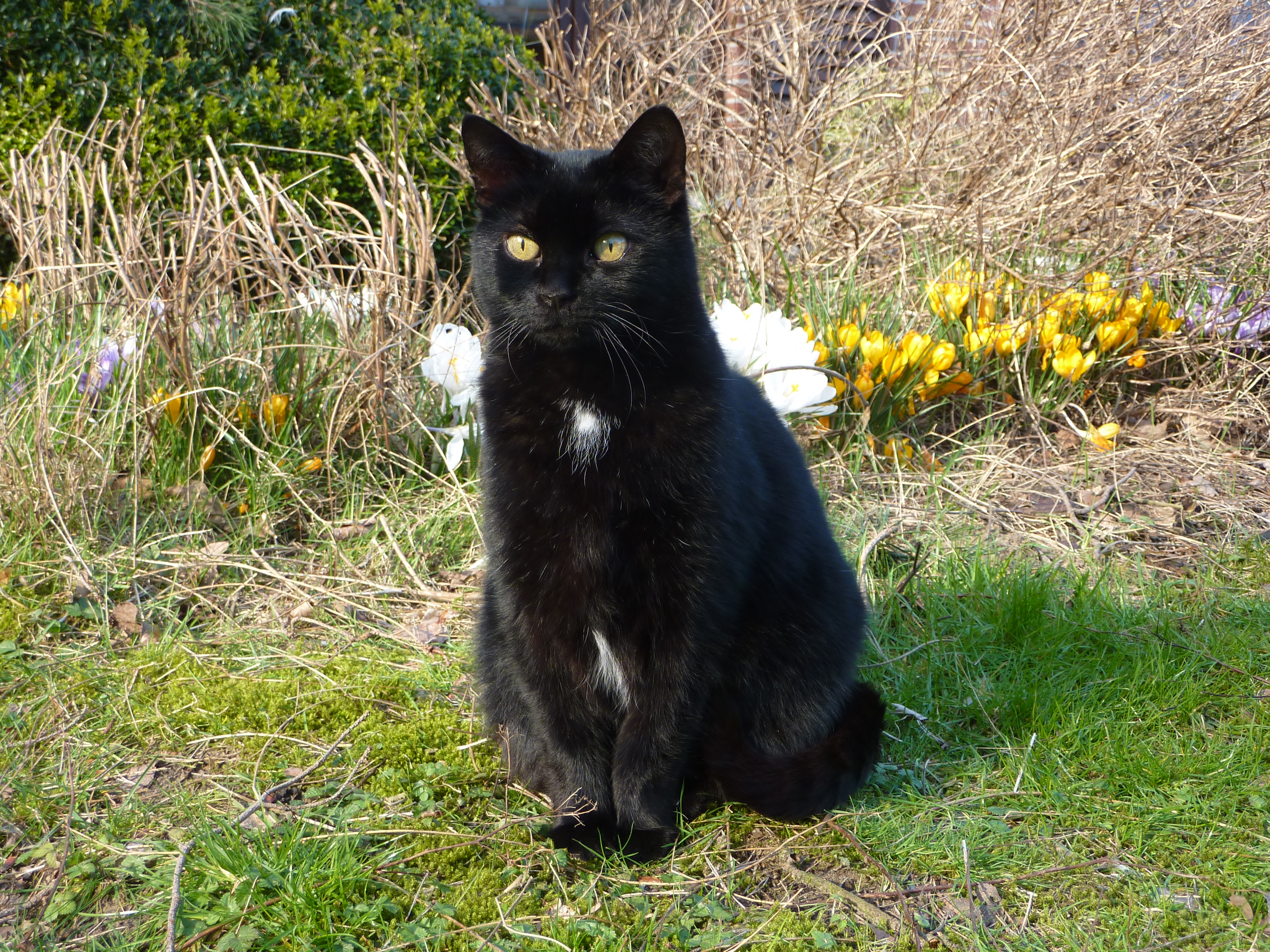 Hallo, het is mij een eer en genoegen om hier ook eens een verhaaltje te mogen schrijven. Even mezelf voorstellen: ik ben Nessy, officiele naam Messi, en ik ben de heer des huizes. Die babylonische spraakverwarring over mijn naam... tja, dat komt omdat mijn huidig baasje blijkbaar niet helemaal goed hoort. Dat zit als volgt: toen ik nog klein poesje was, woonde ik officieel hiernaast, maar ik vond het eigenlijk altijd al gezelliger bij de buurvrouw, veel rustiger, geen drukke kinderen en zo. En dus moesten mijn toenmalige baasjes mij regelmatig roepen als het etenstijd was, maar omdat die buurvrouw (mijn huidig baasje dus) nu eenmaal geen voetbalfan is, dacht die dat ik Nessy heette. Pas 1,5 jaar geleden, toen ze mij officieel heeft geadopteerd, kwam ze dan tot de ontdekking dat ik officieel Messi heette. Maar ondertussen was ik toch ook al gewend om "Nessy" genoemd te worden, en dus hebben we afgesproken van dat maar zo te houden.
Enfin, ik heb dus eigenlijk al die tijd een dubbele thuis gehad: 1 adres voor mijn dagelijkse kost, en een ander adres voor een zacht mandje en lekker warm binnen zitten. Tja, op mijn oorspronkelijk officieel adres was ik eigenlijk 100% "buitenkat", maar ik vond zelf dat het er bij de buren zoveel gezelliger uitzag, en dus liep ik daar regelmatig binnen... meestal stiekem... het kattenluikje stond toch open... Af en toe gebeurde het wel eens dat ik me overdag binnen liet opsluiten (tot verrassing van de buurvrouw als die dan 's avonds thuiskwam, hihi): de hele dag lekker binnen op de zetel of het bed liggen maffen, en dan 's avonds helemaal uitgeslapen terug op avontuur. Toch goed gezien van mij he!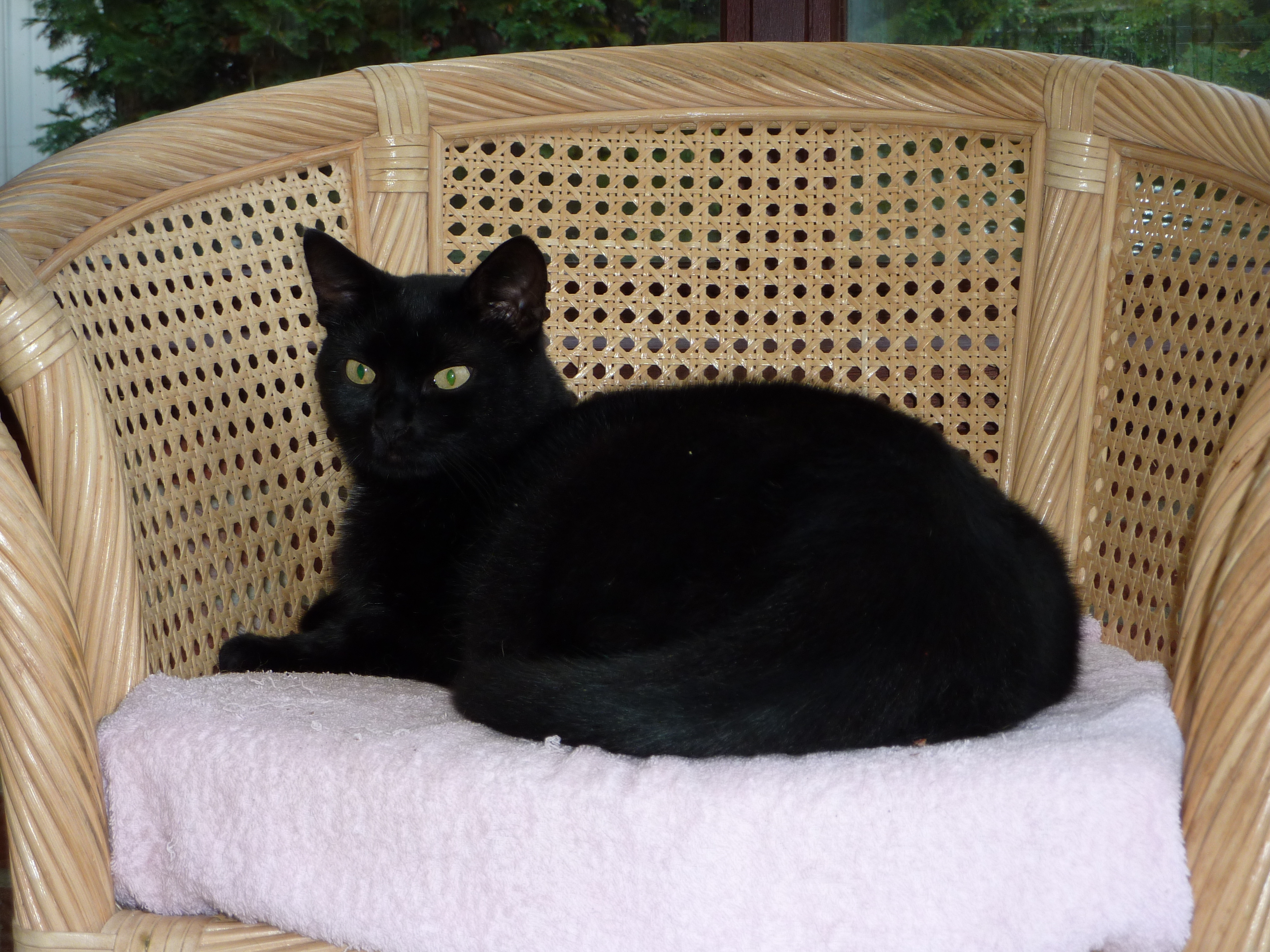 En dan zo'n 1,5 jaar geleden, gingen mijn baasjes verhuizen, maar ik kon niet mee. Dus mocht ik gaan logeren bij de buurvrouw. Ik vond dat helemaal geweldig, want nu kreeg ik dus ook mijn knabbeltjes op mijn geprefereerd adres. En verder bleef ik gewoon in mijn eigen vertrouwde territorium rondpatroejeren (ni zagen over spellingsfouten he). Ik moest wel een paar keer naar de dokter voor prikjes en zo – want daarvoor bijna nooit gebeurde – maar na een tijdje was ik dan ook van de pijn aan mijn pootjes vanaf. Ik krijg nu speciale brokjes, maar die zijn best lekker, dus da's niet erg. (nvdr. vaccinaties en chip in orde gebracht, en probleem met ontstoken voetzooltjes wegens voedingsallergie opgelost dankzij omschakeling naar hypo-allergene voeding). Dat logeren was aanvankelijk een tijdelijke regeling, maar is door omstandigheden uiteindelijk een permanente regeling geworden.
Nu, tot mijn grote frustratie is het eigenlijk ook niet allemaal koek en ei bij mijn nieuwe baasje. De oudere katten hier, die hebben nooit problemen met mij gehad, want die kenden mij al van toen ik nog kitten was. Zeker met bompa Streep was ik dikke vriendjes, maar die is ondertussen naar de poezenhemel vertrokken, snif. Maar er loopt hier ook nog zo'n witte poes rond, een paar jaar jonger dan ik, en die kan ik echt niet hebben. Die jaag ik dan ook altijd weg als ze voor mijn voeten loopt. Ik kan ze niet uitstaan! En tot overmaat van ramp, in de zomer is het hier een komen en gaan van klein grut... opvangkittens! Vreselijk! Die krijg ik meestal niet te zien, want die krijgen hun eigen territorium in de logeerkamer. Maar ik ruik ze wel... en als ze wat langer blijven, dan mogen ze ook in de rest van het huis rondlopen... dan ruikt dus MIJN hele huis naar dat klein grut. Brrr... dat werkt op mijn blaas... als je begrijpt wat ik bedoel.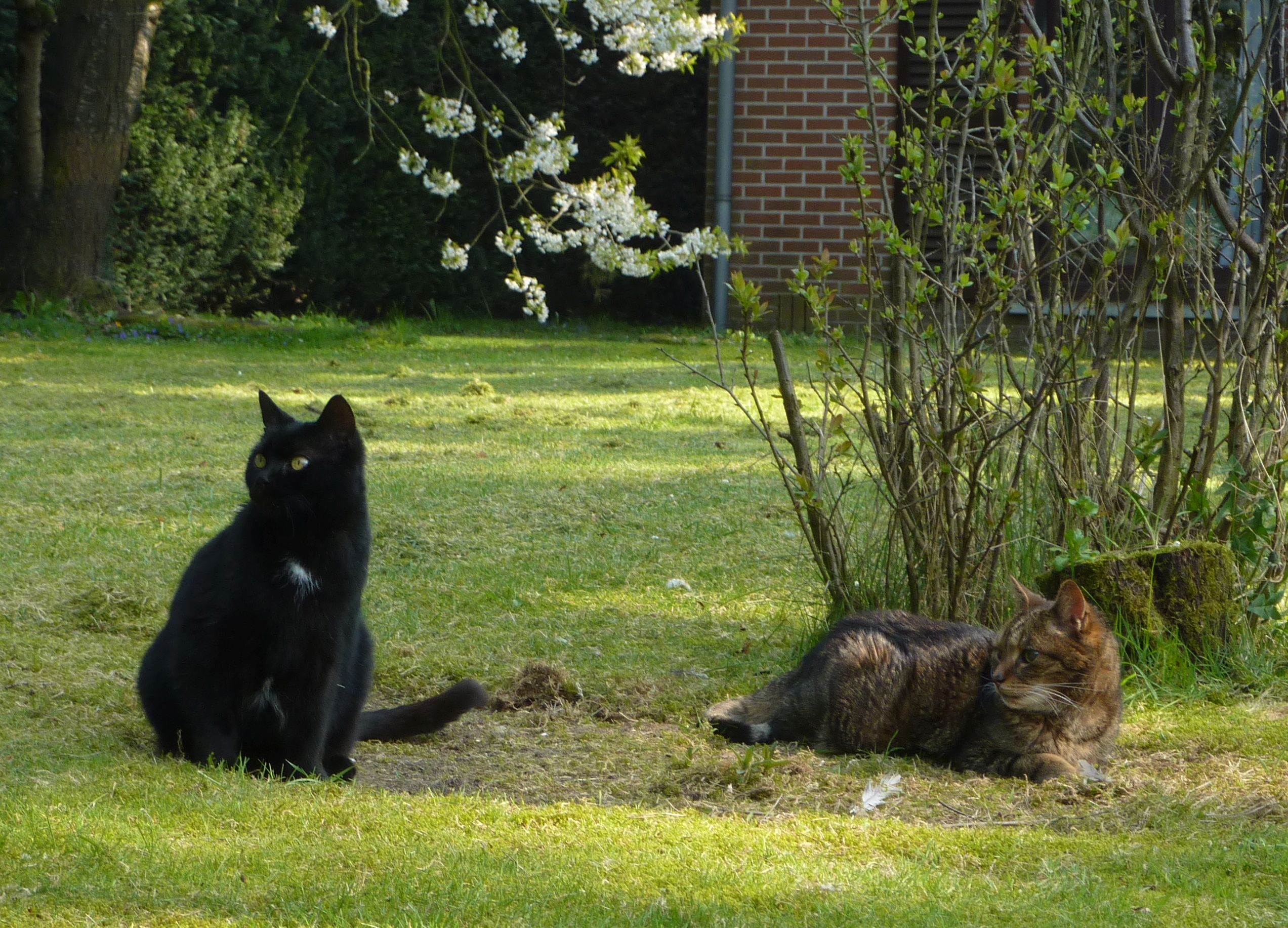 Dus vorig jaar dacht mijn baasje daar een goeie oplossing voor gevonden te hebben. In het huis hiernaast (mijn eerste thuis dus he) waren ondertussen nieuwe mensen komen wonen. Die vonden mij wel lief... en ik hen eigenlijk ook. Dus die wilden wel mee baasje worden, maar ik mocht daar nog steeds niet binnen, want dan krijgt de papa jeuk. Dus: terug naar de oude regeling: de knabbeltjes hiernaast, en in de winter – dan is er geen klein grut – kan ik nog altijd lekker warm hier binnen. Goeie regeling!
Maar mooie liedjes duren niet lang... die vriendelijke mensen hiernaast kregen een heel stom idee: een nieuwe puppy. Man man... weer zo'n drukte. Als er nu iets is wat de eetlust bederft... Dus ik heb meteen duidelijk gemaakt dat ik NIET akkoord ging met de nieuwe situatie. Ineens de grote middelen ingezet: hongerstaking! Tot de baasjes ten einde raad maar weer beslisten om mijn eten op te dienen op het huidig adres. OK, 't is dus ook niet perfect, want in de zomer loopt hier nog steeds klein grut rond, maar bon, dan toch liever een geurtje van een paar opvangkittens dan zo'n 30 of wat kilo "ongeleid projectiel" jonge golden retriever. Nu ja, na een half jaar of zo begin ik stilaan die grote loebas ook wel te tolereren, dus ik ben mijn territorium weer geleidelijk aan naar die kant aan't opschuiven... als er straks hier weer opvangkittens zitten, dan sluit ik misschien nog wel vriendschap met die grote loebas.
En zo ga ik mijn gangetje... ik krijg altijd wel mijn zin... en als 't mij hier niet meer aanstaat, dan schuif ik mijn territorium wel weer een beetje op, tot ik een nieuw koninkrijkje heb. En als het straks zomer wordt, dan ga ik camperen in de tuin, dan ben ik een "camping cat" (hihi, da's eentje voor insiders, wordt misschien later nog wel eens uitgelegd).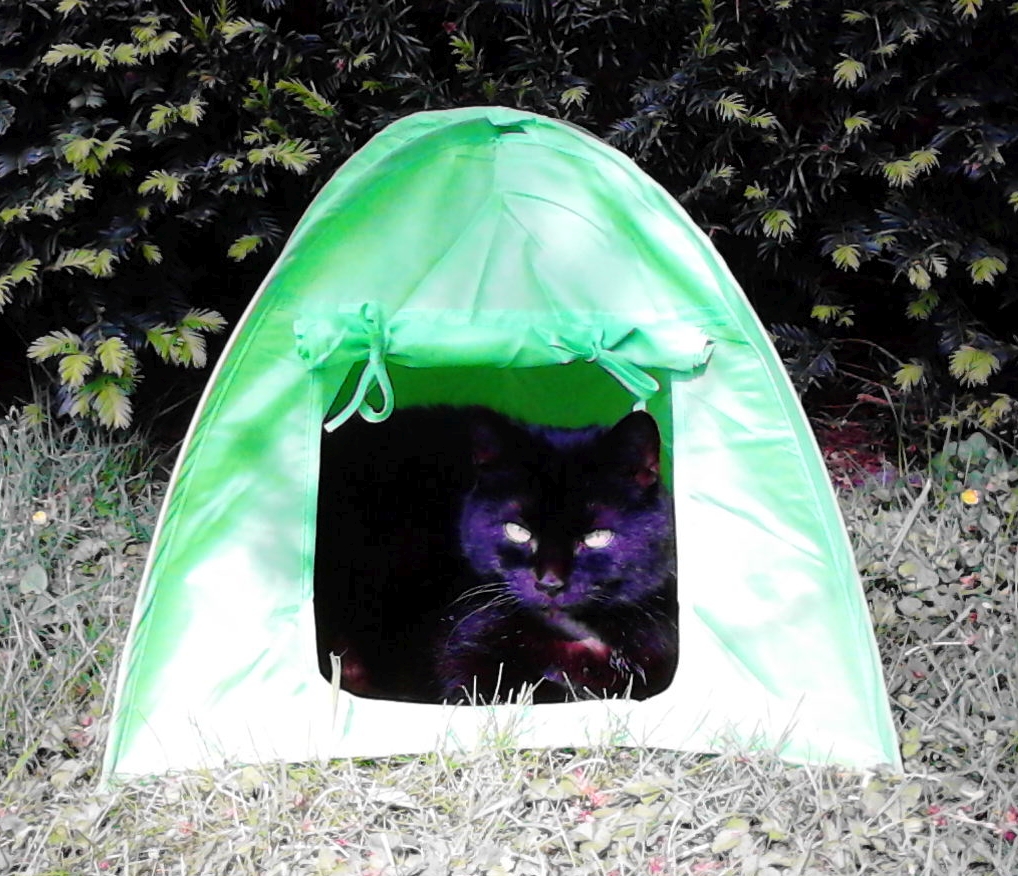 Noot van de redactie: de moraal van dit verhaal...
Een kat die vrij rondloopt kiest zelf haar territorium, afhankelijk van waar er iets lekkers te rapen valt, en (vooral) waar ze zich veilig voelt. Als er dus op bepaald moment iets verandert in de omgeving (zoals in Nessy's geval een nieuwe puppy in huis), dan gaat zo'n kat heel opportunitistisch gewoon haar territorium beetje opschuiven, naar een plek waar het gewoon "beter" is. Meestal is dat niet echt veraf...

Als er een vreemde kat komt aanlopen, ga dan in eerste plaats even rondhoren in de buurt... Het meest waarschijnlijke scenario is dat het een kat van de buren betreft, die gewoon aan 't uitproberen is of "het gras niet groener is aan de andere kant", al dan niet omdat er bij haar thuis iets veranderd is.
Probeer te vermijden dat het gras idd groener is bij jou, want je zou anders wel eens ruzie kunnen krijgen met de buren dat je "hun kat hebt afgepakt". En zeker, probeer te vermijden dat de buurkatten kunnen mee-eten van de brokjes voor je eigen katten. Het kan bv zijn dat de buurkat op een speciaal veterinair dieet staat, of gewoon op een je-moet-echt-wat-vermageren-dieet.
Denk aan je eigen kat of katten, die moeten zich kunnen veilig voelen in huis, in het kerngebied van hun territorium. Die gaan het wellicht niet zo apprecieren dat er een vreemde kat plots in huis binnenkomt. Jij doet toch ook je deur op slot zodat er geen vreemde mensen plots in je woonkamer staan he. Een goede oplossing hiervoor is om een kattenluikje met chiplezer te installeren.
Katten en territorium... er valt zoveel over te vertellen... De kat zal uiteindelijk zelf kiezen, zeker als er dingen veranderen in de omgeving, maar met wat gezond verstand kan je de boel wel zodanig sturen dat je uiteindelijk tot een goeie oplossing komt voor alle betrokkenen (4-voeters en 2-voeters). En dan is iedereen weer happy.