| | |
| --- | --- |
| Geplaatst op 16 februari, 2020 om 1:35 | |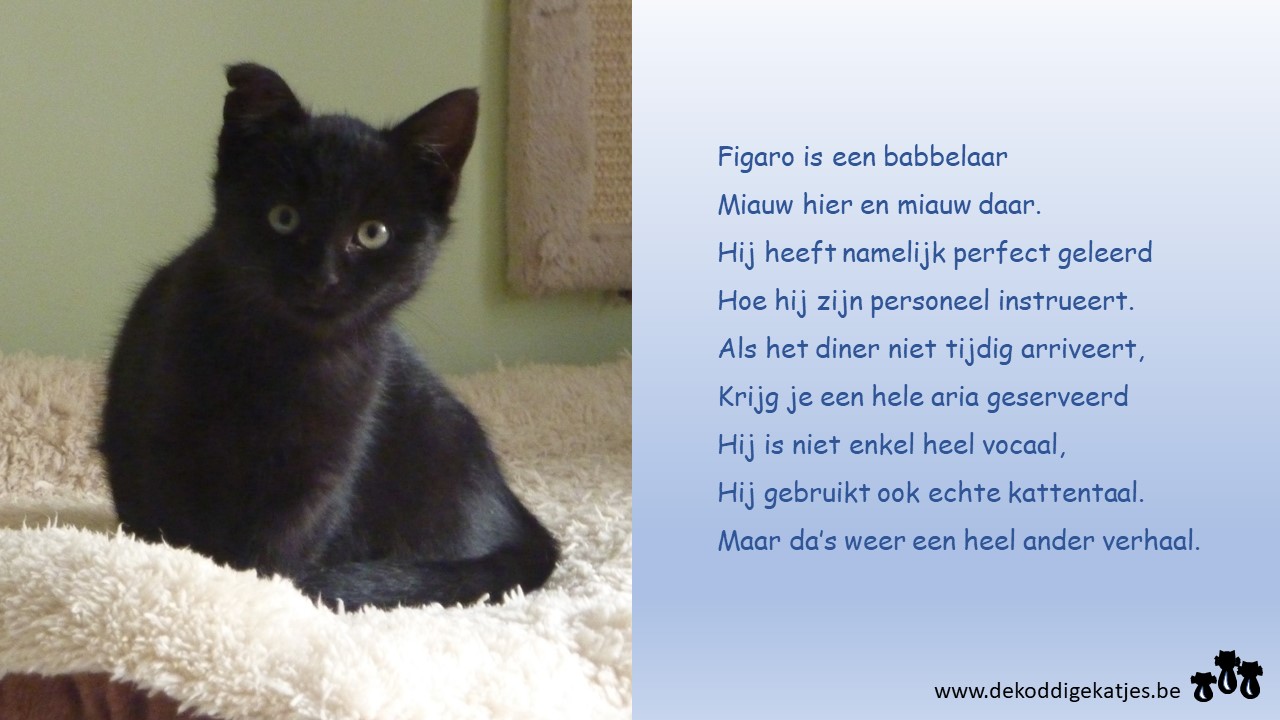 Als de meeste mensen denken aan kattencommunicatie, dan denken ze aan miauwen. Maar eigenlijk is miauwen niet de meest voor de hand liggende communicatie vanuit de kat haar perspectief, dus maw geen echte kattentaal. Hoe zit dat? De (wilde) kat is van nature een solitaire jager, die eigenlijk liefst geen andere katten ontmoet, tenzij om samen kleine katjes te maken. Dus heeft die ook geen zin in babbeltjes met kattencollega's. Miauwen is eigenlijk iets wat in de natuur enkel voorkomt tussen mama poes en kittens, wanneer de kittens om mama roepen, bv als ze een beetje afgedwaald zijn uit het nest.
Maar... katten zijn slimme beesten. En de meeste katten hebben al snel door, dat ze met miauwen de aandacht van hun personeel kunnen trekken. Want wij mensen zijn nu eenmaal wel op babbelen ingesteld. En dus past de kat zich aan, en ontwikkelt een heel arsenaal aan miauwtjes om met zijn baasje te communiceren. En op die manier wordt dat ook eigenlijk een soort geheimtaal die enkel door baasje en kat begrepen wordt. Denk maar even na, jij hoort wellicht het verschil tussen een miauwtje omdat je kat honger heeft, of omdat hij naar binnen/buiten wil, of omdat hij gewoon aandacht wil. Maar de kat van de buren, die spreekt een heel andere miauw-taal met zijn baasjes.
Echte kattentaal is eigenlijk veel subtieler. Communicatie tussen katten onderling gebeurt vooral door geuren; die blijven nl hangen ook als je de andere kat niet "face to face" wil ontmoeten. Denk maar aan markeerplasjes. En verder natuurlijk ook door lichaamstaal. Maar da's dus een heel ander verhaal, en daar komen we in een volgende aflevering zeker nog wel eens op terug. Overigens, over dit thema heb ik ook een lezing, waar we alle communicatie van katten eens onder de loep nemen. Dus, wil je met een groepje geinteresseerden eens helemaal in de kattentaal duiken, geeft dan maar een seintje, dan kunnen we die lezing zeker eens organizeren.
En nog even dit: het hele miauw-gedoe betekent dus ook dat de kat wel degelijk leert hoe ze iets van haar personeel gedaan krijgt. En dus... de kat kan leren! Jawel. Dat betekent ook dat je je kat dingen kan leren. Je moet het enkel op de juiste manier aanpakken. Daarmee hebben we nog een topic waar we in een volgende aflevering eens op kunnen terugkomen.
PS: op de foto, Figaro, een kitten van afgelopen seizoen, die dus zijn naam niet gestolen had he. Het knipje in zijn oor toont aan dat hij oorspronkelijk als zwerfkatje werd gevangen (en gecastreerd natuurlijk), met de bedoeling hem terug te zetten op de vindplaats. Maar op het laatste momentje is men toch van gedachte veranderd, en hebben we hem de kans gegeven om te studeren voor huispoesje. Hij heeft heel snel zijn gouden mandje gevonden, ttz hij heeft de grote mand van de hond des huizes (zijn nieuwe vriend) ingepikt. Nu ja, de hond kan er nog net bij, die schuift wel een beetje op.