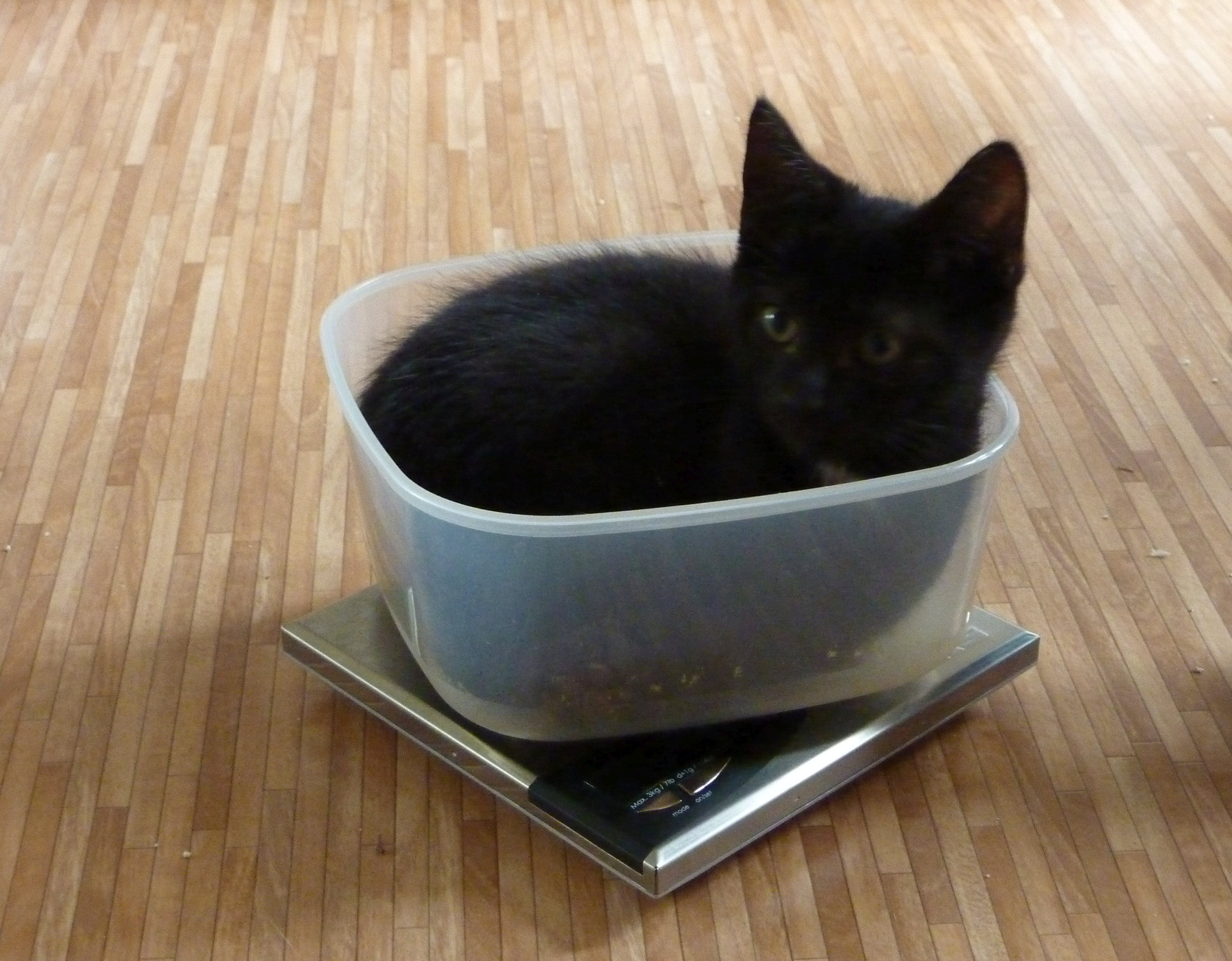 Hoeveel brokjes krijgt jouw kat dagelijks? Eén handje? twee handjes? A volonté ? Ja maar... hoeveel is dat nu eigenlijk? Ik kan me voorstellen dat dierenartsen er wel eens grijs haar van krijgen...
Mensen vragen zich vaak af: welke voeding moet ik mijn kat geven: droge brokjes, natvoer, welk merk, enz. Maar waar men vaak een beetje te weinig bij stilstaat is "hoeveel voeding moet ik mijn kat geven?" Het resultaat is welbekend. Veel van onze huiskatten zijn eigenlijk een tikkeltje te dik, of meer dan een tikkeltje, er lopen nogal wat Garfields rond... En ja, ik moet eerlijk bekennen, ik heb hier ook zo'n hangbuikzwijntje rondlopen.
Dus, hoe weet je nu wat de juiste hoeveelheid is? Oké, da's op zich niet zo moeilijk. Bij elk goed merk van kattenvoeding zal je ongetwijfeld richtlijnen vinden op de verpakking. Maar... die richtlijnen op de verpakking geven een aanbevolen dosis, afhankelijk van het gewicht van je kat.
Dus opdracht 1: zet je kat op de weegschaal. Hm, dat kan best al een uitdaging zijn. Een paar opties: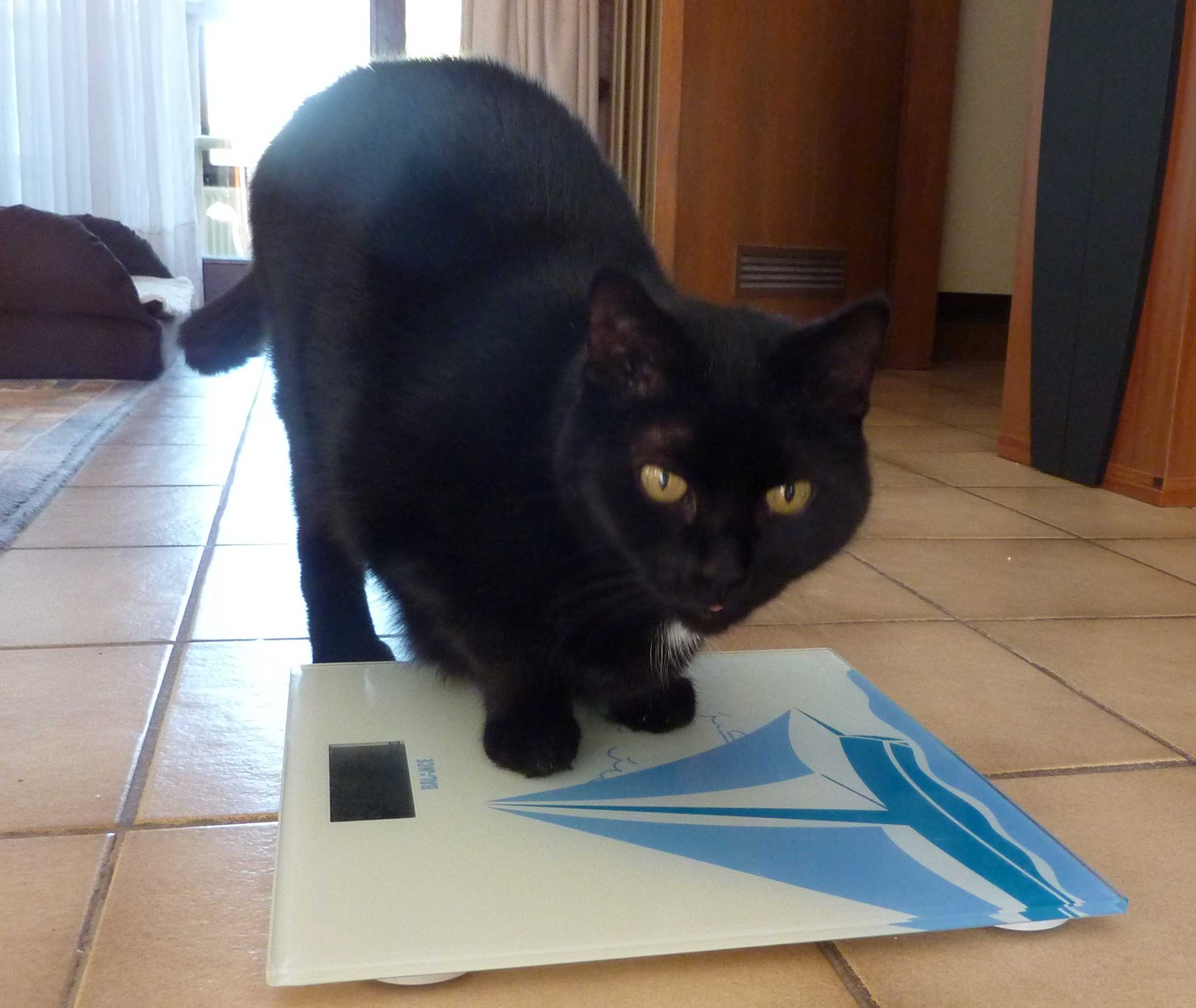 Je zet de kat op de weegschaal bij de dierenarts. Da's vanzelfsprekend de meest nauwkeurige methode, maar tenzij je zelf dierenarts bent en zo'n ding in huis hebt, vermoed ik dat je niet elke maand zo'n weegschaal bij de hand hebt.
Je traint je kat om zelf met de 4 pootjes op je eigen (personen)weegschaal te gaan staan. Hm, ongetwijfeld een leuke trainingsoefening, maar ik heb daar persoonlijk eerlijk gezegd niet het geduld voor. En als ingenieur maak ik me dan de bedenking: zo'n personenweegschaal is gemaakt om nauwkeurig gewicht weer te geven voor een gemiddelde persoon. Dus zo'n ding werkt wellicht uitstekend tussen bv 25 kg (voor kinderen) en 100-120 kg. Maar of dat ook nauwkeurig is voor een kat van 4 kg? Ik sluit niets uit, maar vermoedelijk is het toch niet ideaal.
Enfin, da's makkelijk opgelost: je weegt jezelf met en zonder de kat op de arm. Als die kat een beetje wil meewerken natuurlijk. Wat voor de meesten wel zal lukken, tenzij je net een halfwilde zwerfkat gevangen hebt.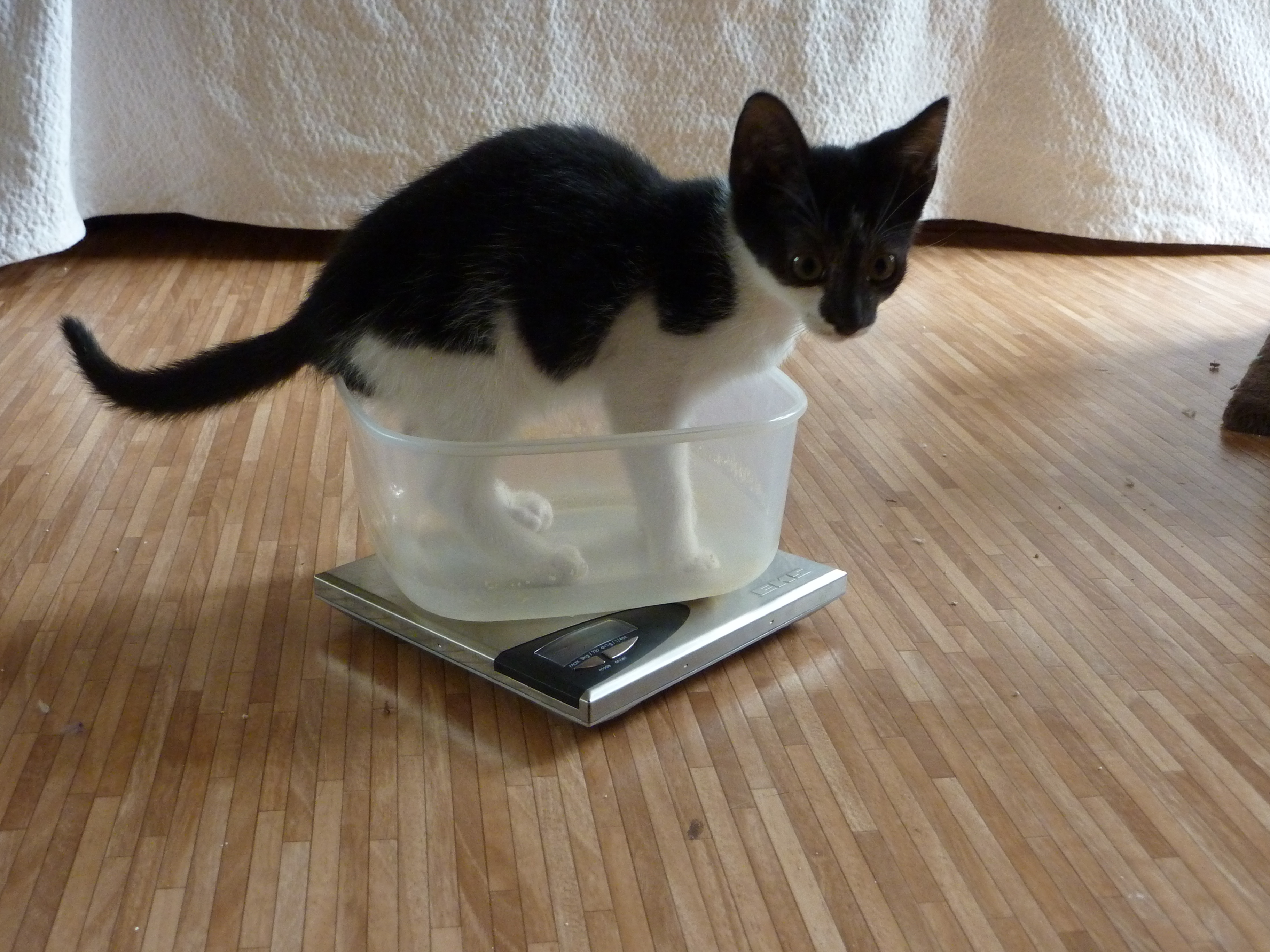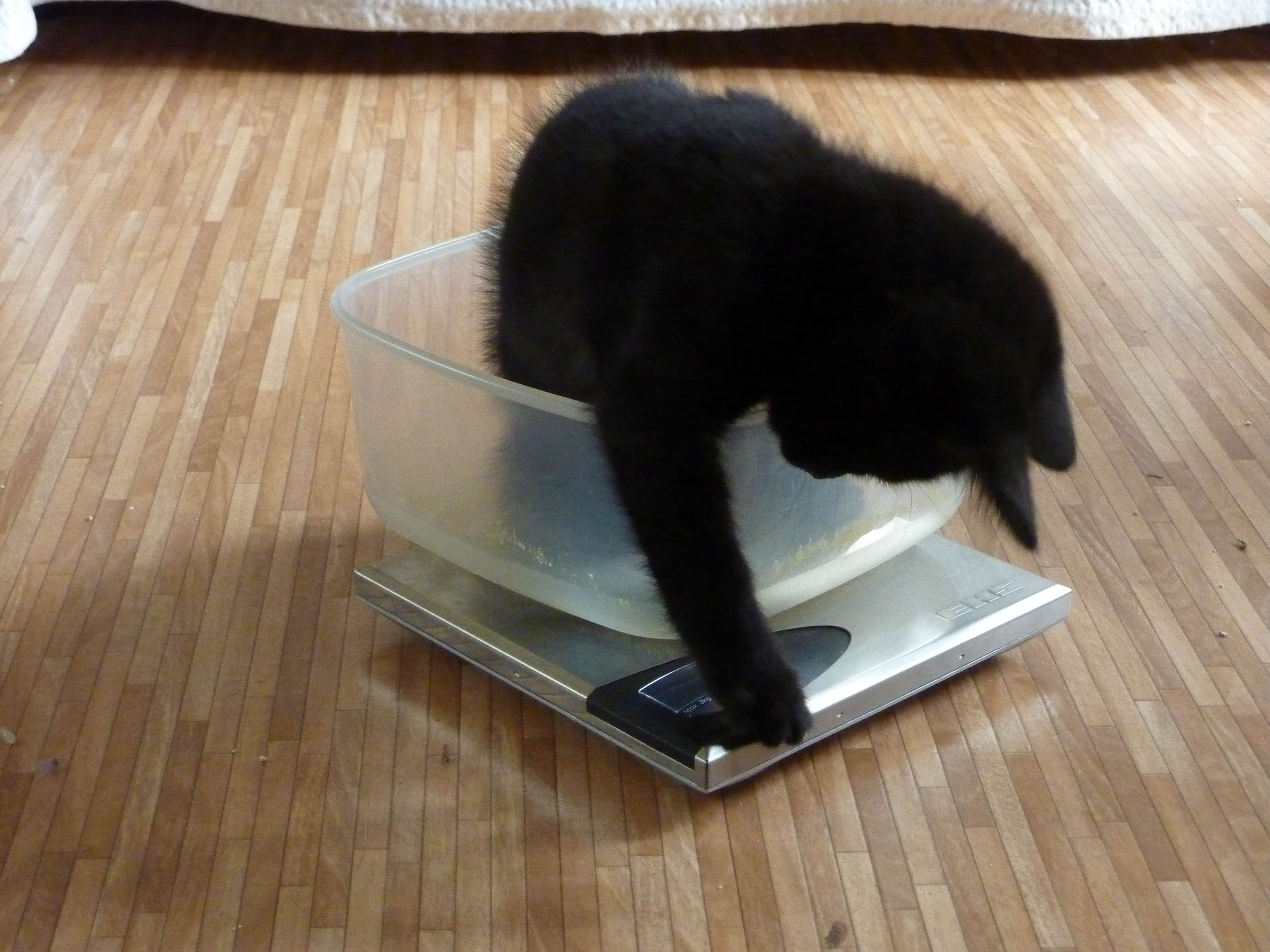 En dan kittens... een categorie apart. Maar nog veel belangrijker om regelmatig te wegen. Want je wil bv. weten wanneer ze groot genoeg zijn voor hun eerste prikje. En bij papflessertjes is het al helemaal absoluut een verplicht nummertje om te checken of ze flink hun buikje rond eten. Dus:
Vergeet de personenweegschaal... voor een kitten van <1 kg wil je een keukenweegschaal.`
Even oefenen... 4 pootjes op de keukenweegschaal en even stilstaan? In your dreams...
Voor een tam en rustig kitten (of voor de hele kleintjes) lukt het normaal wel om heel eventjes stil te zitten in een bakje op de weegschaal. En als het lukt, levert dat ook nog eens keileuke fotootjes op.
Maar er is ook de categorie bangerikjes... en daarvoor heb ik het volgende trucje: zet de kitten in een transportbakje (hm... daar kunnen we eens in een ander blogberichtje over uitwijden), weeg het geheel op de personenweegschaal, en trek daarna het leeggewicht van het transportbakje er weer af. Oké, voor de ingenieurs onder ons ook niet echt nauwkeurig te noemen, maar in elk geval beter dan "schatting op het oog". En met bangerikjes heb je nu eenmaal niet zoveel mogelijkheden.
Opdracht 2 is ook de brokjes dagelijks afwegen. Daar heb je hopelijk geen extra tips voor nodig.
Onthoud dus wel: "1 handje vol" is geen duidelijke maat. Noem het mijn beroepsmisvorming als ingenieur, maar "meten is weten", of in dit geval "wegen is weten", dat klinkt uiteindelijk ook niet slecht, hé.
En dan het volgende probleem: hoe zorg je dat precies die hoeveelheid brokjes in het juiste kattenbuikje terechtkomt? Dat kan best wel een uitdaging zijn als je meerdere katten in huis hebt, of als de kat lekker in de tuin mag rondlopen en ook wel eens bij de buren gaat schooien... ha ja, want thuis staat ze op dieet. Een hoop interessante uitdagingen dus, maar een beetje veel om allemaal nog in deze aflevering te behandelen. Dus da's voor een volgende keer.
Oh ja, en om nog even terug te komen op de juiste weegschaal voor het beestje in kwestie. Wat doe je dan met een paard? Want natuurlijk worden die ook wel eens te dik of te dun. En ja, er bestaat zoiets als een gespecialiseerde paardenweegschaal, maar dat heeft de gemiddelde paardeneigenaar ook niet bij de hand. Dus hier heb je een creatievere oplossing nodig. De weegschaal van een containerpark bijvoorbeeld (tegenwoordig moet je daar met de wagen toch ook voor en na op de weegschaal), of van een bedrijf waar vrachtwagens gewogen worden. Met zelfde bedenking over de nauwkeurigheid als eerder aangegeven. Maar verder meteen een leuke wandeling voor je paard. Zeker als er onderweg wat lekkere grasbermen zijn. [nota bij de foto: het is niet helemaal goed zichtbaar, maar hij staat wel degelijk op een weegbrug voor vrachtwagens, zie metalen rail opzij.]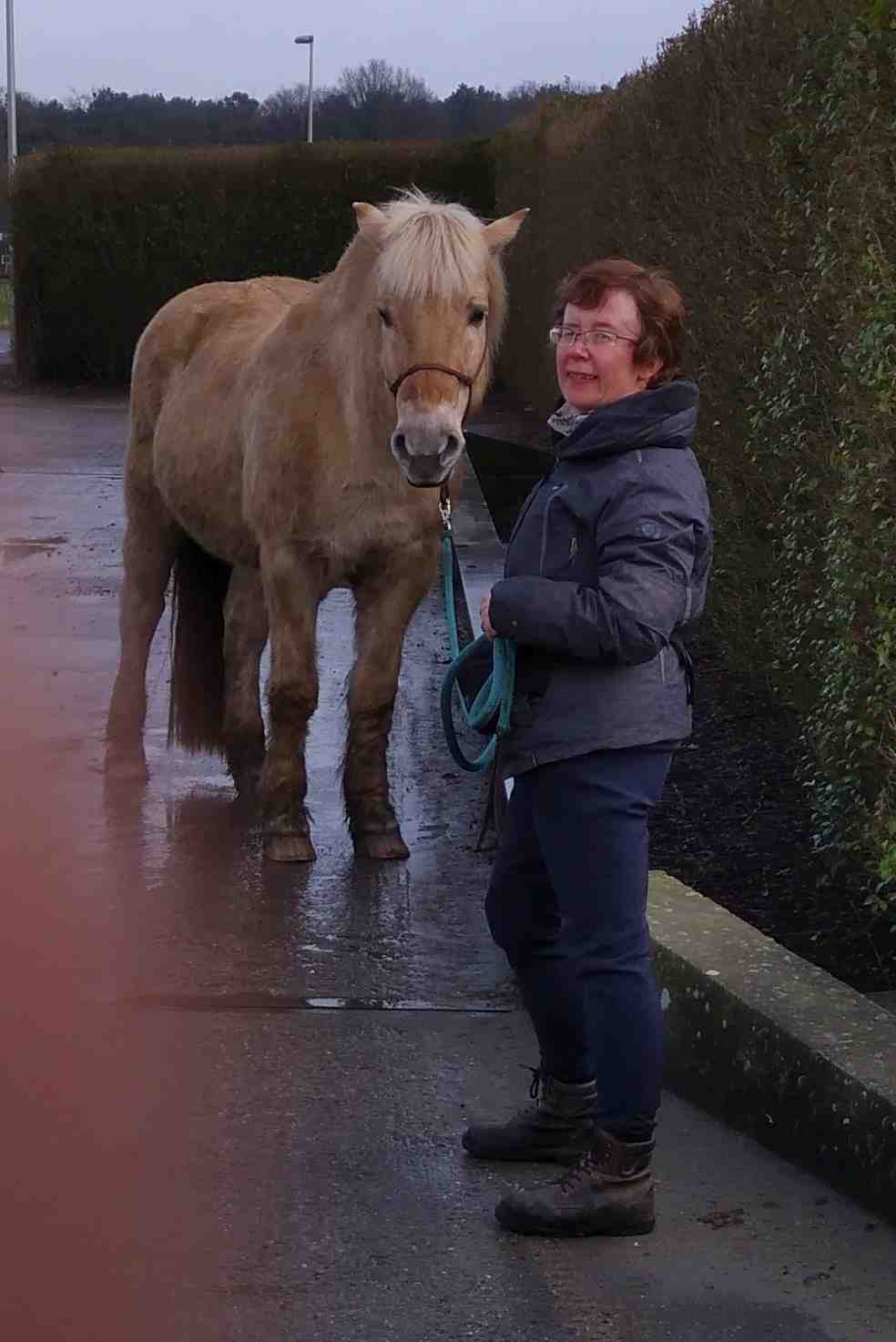 De moraal van het verhaal? Hup, ga op zoek naar een weegschaal op maat van je viervoeter en vanaf nu regelmatig op controle en tijdig ingrijpen bij risico op waggelbuikjes. We willen toch allemaal koddige katjes he, geen ongezonde hangbuikzwijntjes. Veel succes!