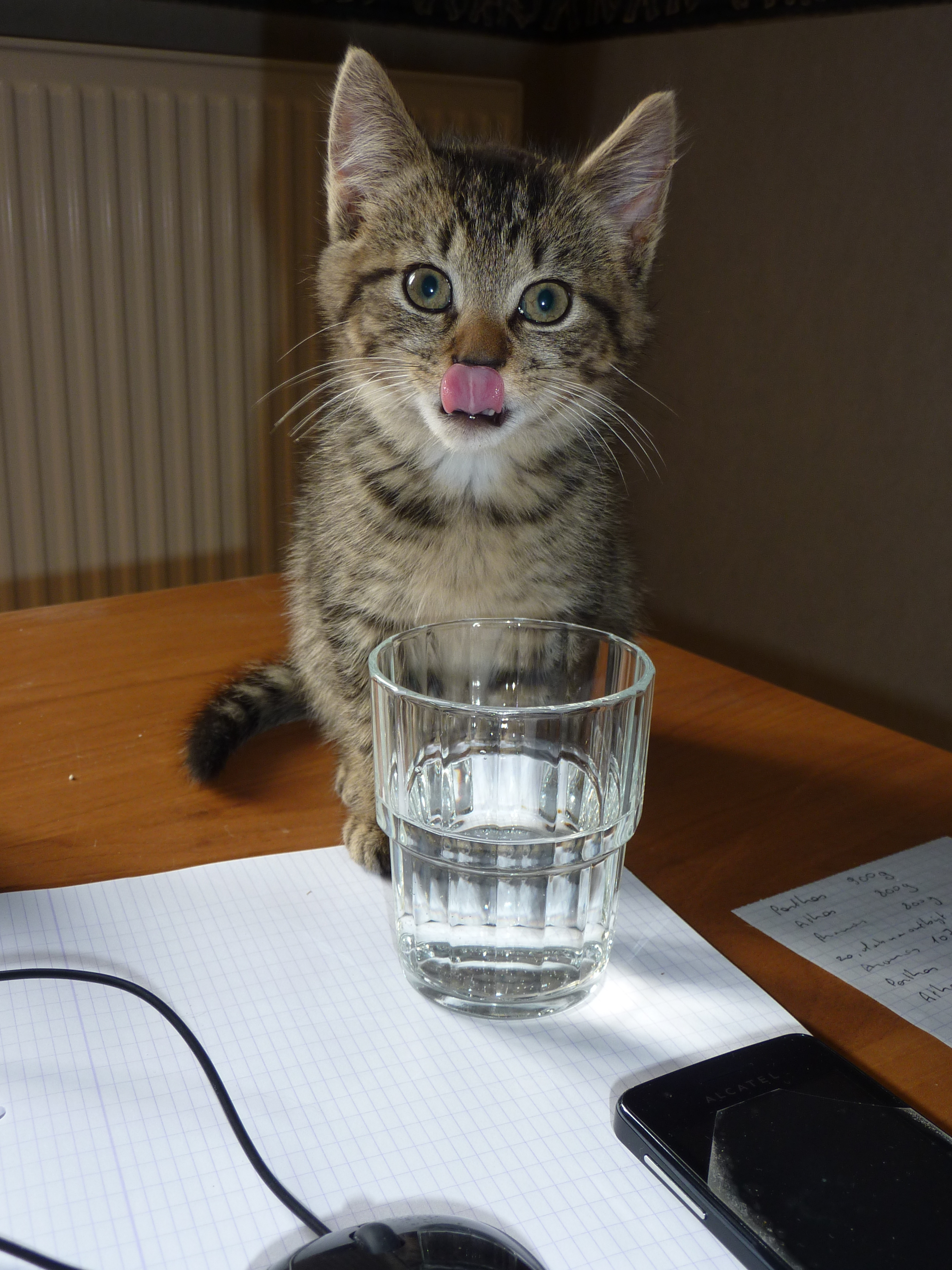 Katten met een drankprobleem... waar denk je dan aan? "Tu veux du vin?" "Mauw"...
Hm, zo klank zonder beeld is misschien niet helemaal duidelijk. Laat me even beeld toevoegen: iemand doet de deur van de ijskast open om een fles witte wijn te nemen, komt de (Fanse zwerf-)kat aangelopen en kijkt de persoon met bedelende oogjes aan. "Tu veux du vin?" "Mauw"...
Tot daar de anekdote (waargebeurde feiten, weliswaar jaren geleden, op vakantie in het Zuiden van Frankrijk, vandaar dat die kat dus Frans sprak). 't Is overigens deze maand ook Tournée Minérale, dus een goed moment om het over drank te hebben.
Maar eigenlijk is dit blogberichtje vooral geïnspireerd door iemand die me een tijdje terug om raad vroeg want de kat zat toch wel met een drankprobleem... sinds kort had ze namelijk een nieuw spelletje uitgevonden: pootje baden in haar drinkbakje. En dan daarna lekker met natte pootjes door de kamer lopen... wat de baasjes niet zo goed konden appreciëren.
Nu kon ik me daar onmiddellijk iets bij voorstellen, want ik heb al een hoop kleine deugnietjes (opvangkittens) over de vloer gehad, die dat ook zo'n leuk spelletje vinden. Met dat verschil dat ze het na één dag gelukkig alweer beu zijn en dat ze het spelletje enkel spelen als ze net terug zijn van hun castratie of sterilisatie. M.a.w. als ze grote dorst hebben, vanwege de narcose. Als je het poetsen even buiten beschouwing laat (ook die kleintjes vinden het toch zo plezant om met natte pootjes door de kamer te crossen), is het eigenlijk best leuk om ze bezig te zien. En niks om je ongerust over te maken, want na één dag is het typisch weer over.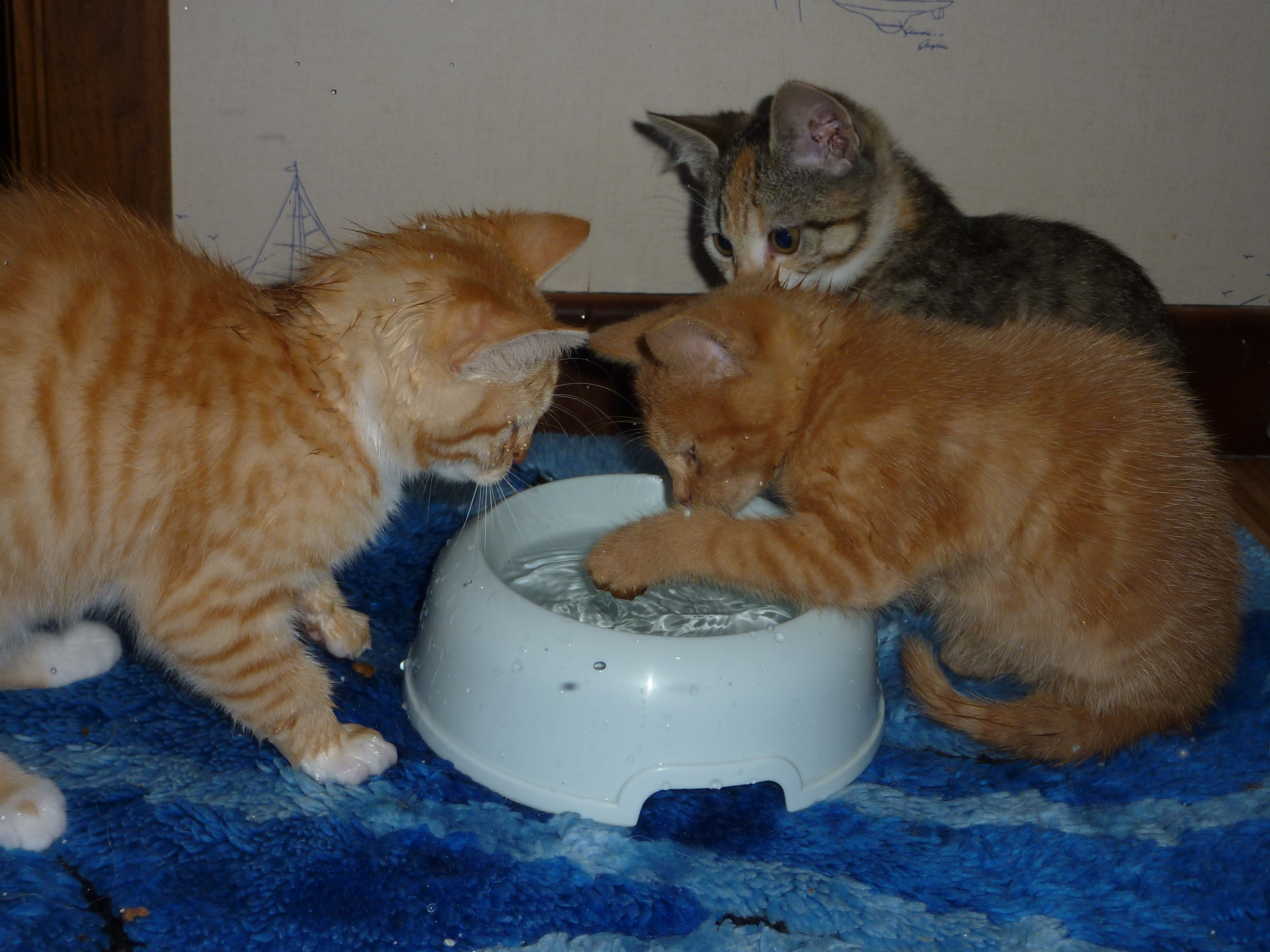 Maar goed, deze kat was natuurlijk een ander verhaal, dus dan wordt het wel eventjes zoeken:
Zou het pootje pijn doen? Zodat de poes het wil koelen? -> Hm... dat lijkt me heel erg onwaarschijnlijk. Dan zou de kat vooral dat pootje heel vaak likken.
Wil de poes gewoon lekker de baasjes pesten door met natte pootjes door de kamer te lopen? Tuuut [lees "quizgeluid bij fout antwoord"] Nee hoor, katten zijn geen pestbeesten, die nemen al die anti-pest campagnes heel serieus. Even ernstig: pesten is iets wat hoort bij typisch menselijke hersenen, net zoals katten zich ook niet kunnen schuldig voelen en dergelijke.
Is het misschien toch een gelijkaardig probleem als bij die kittens? M.a.w. heeft de kat heel erg veel dorst, zodat ze probeert om met het pootje extra water binnen te krijgen? Tja ... beetje doorvragen ... gaat de kat soms vaker drinken, of langer drinken ... Welja, nu je 't zegt, de baasjes hadden inderdaad de indruk dat de kat toch wel vaker ging drinken. In dat geval ... tijd voor een tripje naar de dierenarts, want eerst moeten we echt even uitsluiten dat er iets medisch aan de hand is. Ook al omdat de kat al wat ouder begint te worden. De dierenarts volgde blijkbaar onze redenering, dus er werd bloedonderzoek gedaan en zo, maar er bleek niets ernstigs aan de hand. Gelukkig maar. Natuurlijk was daarmee het probleem nog niet opgelost. Dus we moesten nog wat verder denken...
Misschien probeert de kat aan te geven dat er iets fout is met haar drinkbakje...
Voor we verder ingaan op dat laatste puntje, dit brengt ons eigenlijk bij het tegenovergestelde probleem, wat bij katten wel vaker voorkomt, nl. een kat die te weinig drinkt i.p.v. teveel, net omdat er iets niet helemaal pluis is met het drinkbakje. Waarom komt dat zo vaak voor? Wel, omdat de over-over-overgrootouders van de kat in de Noord-Afrikaanse savanne/woestijn leefden, wat een net iets ander klimaat is dan onze Belgische winter dit jaar. M.a.w. de kat is erop gemaakt om voldoende vocht te halen uit de muisjes die ze vangt (die voor 60 à 70 % uit vocht bestaan), zodat ze helemaal niet hoeft te drinken om voldoende vocht binnen te krijgen. Maar... dan komt die kat bij ons wonen, en krijgt vooral droge brokjes... En droge brokjes zijn nu eenmaal "droge kost". Als er dan ook nog – althans volgens de kat – iets "fout" is met het drinkbakje, dat krijgt ze echt niet voldoende vocht binnen, en dan krijg je een hoop ernstigere medische problemen...
Dus, wat kan je doen om je kat te stimuleren van te drinken? Of bij uitbreiding, om andere vreemde drankgewoontes op te lossen? Hier volgen een aantal weetjes en tips:
Zet het drinkbakje (en etensbakje) vooral niet vlak naast de kattenbak. In de natuur zal een kat nooit haar behoefte doen vlakbij de plaats waar ze eet. Dus als het allemaal te dicht bij mekaar staat, dan riskeer je dat de kat elders haar behoefte gaat doen i.p.v. op die kattenbak.
Zet het drinkbakje ook niet vlak naast het etensbakje. In de natuur zal een kat nooit drinken van water vlakbij de plek waar ze net een prooi heeft gedood, omdat ze instinctief aanvoelt dat het water dan vervuild kan zijn.
Zorg voor een brede schaal i.p.v. een klein bakje. Vanwege de snorharen... Bij kleine drinkbakjes raken de snorharen de rand van het bakje, en dat is voor de kat vreselijk irritant, dus dat gaat haar ontmoedigen om te drinken
Een paar extra drinkbakjes verspreid over het huis, is ook altijd een goed idee. Een kat wil graag kunnen kiezen... dat geldt niet enkel voor de kattenbak, maar ook voor etens- en drinkbakjes.
at risk of stating the obvious: zorg dat er steeds vers water in zit.En ter uitbreiding van het voorgaande: veel katten houden van stromend water. Niks zo vers als recht uit de kraan. Ik heb er zo eentje die vroeger heel duidelijk vroeg om de kraan open te zetten (kraan terug dichtdraaien zal hun worst wezen).
Gelukkig heeft de huisdierenindustrie daar een goeie oplossing voor bedacht: drinkfonteintjes. Je vindt ze in alle maten en gewichten, en de meeste katten vinden het helemaal geweldig. Dus nu heb ik er eentje die naast het fonteintje gaat zitten en me dan aankijkt met niet-mis-teverstane blik van "steek dat ding eens in het stopcontact". (zie foto, "bomma" Stippeltje vindt dat fonteintje echt helemaal geweldig!)
En dat brengt ons terug bij de kat waar we het eerder over hadden, die zo graag in haar drinkbakje plonst... Katten houden van water in beweging, dus het zou wel eens kunnen dat de kat met haar pootje probeert zelf een fonteintje na te bootsen.
Zeker een oudere kat met artrose (en zo lopen er nogal wat rond) zal je dankbaar zijn als het water ietsje hoger wordt aangeboden, zodat ze niet door haar voorpootjes moet buigen om te kunnen drinken. Sommige van die drinkfonteintjes hebben trouwens inherent ook de eigenschap dat de kat kan kiezen op welke hoogte ze drinkt, bv. omdat het bakje bestaat uit een waterval via meerdere niveaus, of water laat stromen langs een schuin oppervlak, enz.
Tenslotte, sommige katten houden niet zo van plastiek. Keramiek of glazen schaaltjes hebben minder "bijsmaak"
Zo, nooit gedacht dat er zoveel kwam kijken bij het opdienen van een glaasje water voor je kat, hé? Ik zou zeggen, neem een glaasje wijn voor jezelf, en zet voor de kat het kraantje even open. Schol!