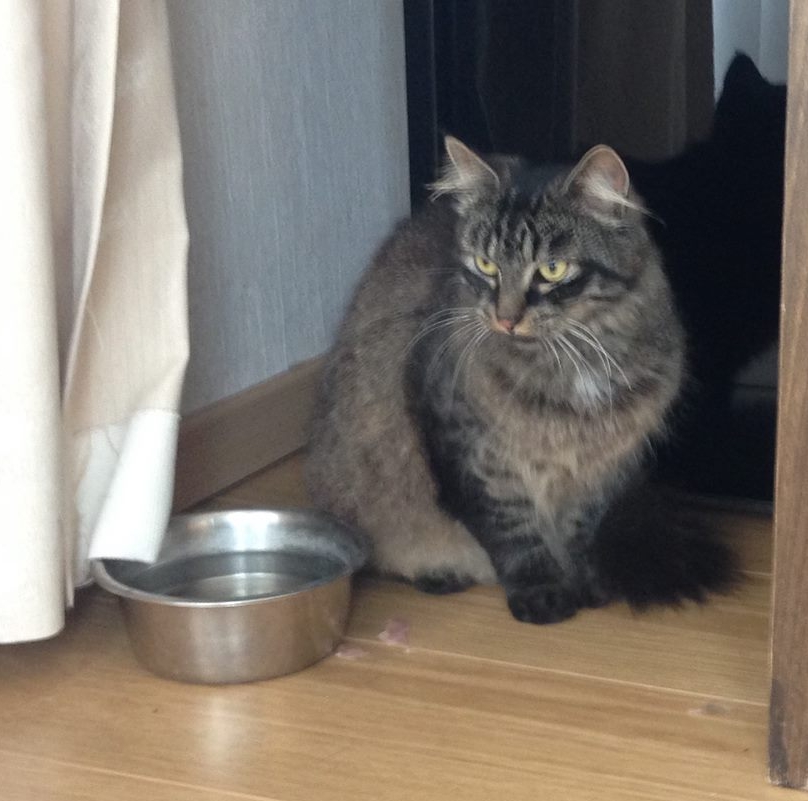 Een (waar gebeurd) verhaaltje in aanloop naar de les "Het territorium van de kat" volgende week (26 nov). Over een kat die op avontuur ging buiten zijn eigen territorium.
Wat voorafging: Mijn zus was 4 dagen weggeweest van huis voor vrijwilligerswerk. De hond was ondertussen uit logeren gegaan bij een bevriende "dogsitter" en moest dus nog terug opgehaald worden. Net voor die 4 dagen was de poetsvrouw nog geweest. Een weekje of wat voordien was Spookske, de kat van de buren, naar de poezenhemel vertrokken (wegens ouderdom). Mijn zus heeft zelf geen katten.

Het verslag van mijn zus, wat ze aantrof toen ze thuiskwam na 4 dagen afwezigheid:
 
Ik kom thuis, vol goede moed om direct te beginnen werken (nvdr: net als ikzelf kan ze af en toe van thuis uit werken) en straks zo rap mogelijk woefje te gaan halen... Ik doe de deur van garage naar hal open en bedenk me "yikes, hoe muf kan een huis ruiken na maar 4 dagen tijd, raar geurtje"
Ik ga de trap op, en zie in mijn keuken de koekjesdoos van de hond op de grond liggen en denk denk, hoe had ik mijn huis nu ook weer achtergelaten? met hondekoekjes op de grond? een half uurtje nadat de poetsvrouw weg was en een halve dag nadat de hond weg was???? "Spookske, waar zit je, ben jij hier ergens aan't spoken?"
Ik ga de trap verder op en vind dat mijn badcarpetjes er verdacht bij liggen. Ik ga de badkamer in en vind de oorzaak van de rare geur in bad; "Spookske, dat is er nu toch echt wel over !!"
Ik begin dan maar mijn huis binnenstebuiten te keren want hier moet nog 'iemand' zijn. Ik zie uiteindelijk vaag een hoopje dode pluche onder het bed tegen het hoofdeinde van het bed. Aaaaah, een dode kat onder mijn bed !!!!
Ik sleep, trek, hijs,... (ah ja, we zijn toch topfit na zo'n 4 dagen vrijwilligerswerk....) mijn matras af mijn bed en zie een verdacht bewegende, misschien toch niet helemaal dode kat naar mij kijken. Aaaah, een totaal verzwakte poes onder mijn bed !!!!
Een vliegende kat suist door de kamer de trap af, en verdwijnt.
Ik keer mijn living binnenstebuiten en vind een geterroriseerde kat met muzikale ambities naast de piano.
Ik haal wat smakelijk beleg uit en een bakje water, geen interesse, ik streel die kat, jaaa, kopjes geven. Duidelijk een kat met personeel, en een mooie pluimstaart, maar toch zo ondervoed dat er niks in gaat en hij of zij ook voor de open balkondeur geen interesse heeft.
Ik laat berichtjes op GSMs van allerlei buren met katten om zo snel mogelijk aan wat kattenvoer te geraken, alsook aan een transportbakje voor een bezoekje aan de dierenarts, en ik bel de kattenspecialist van de familie (nvdr: jullie mogen raden wie dat kan zijn)
Ergens tussendoor smeer ik toch eindelijk een boterhammetje voor lunch en begin toch te werken: enkele zeer efficiente calls, met door het verhaal uiterst geamuseerde collegas, geregeld onderbroken door terugbellende/SMSende buren, een aan huis geleverd transportbakje, een dogsitter met catkiller in de aanbieding (nvdr: die hond kon echt geen katten uitstaan) en uiteindelijk de kattenexpert die opdaagt.
De kat – nog steeds niet in eten geinteresseerd - gaat heel vlot in het transportbakje en blijkt bij de dierenarts een 'sans papier' (chiploos) te zijn. Verder lijkt de kat ok, zelfs geen noemenswaardige uitdrogingsverschijnselen. We krijgen als 'kadootje van het huis' (dank u beste dierenarts) een blikje recovery voer mee (extra smakelijk, extra geurend, extra rijk) mee.
Een hongerige, precies 4 dagen niet gegeten hebbende kat (tja) stort zich op de recovery voeding (dat spul werkt!), komt nog wa knuffels halen en vindt dan dat het tijd is om naar huis te gaan (rechtop tegen livingdeur, trap af, rechtop tegen buitendeur). Hij loopt vrolijk de plensnatte straat op, weggetje in, tuinhekje over en om ergens in een van de volgende tuinen te verdwijnen. Duidelijk terug op zijn gemak dat hij terug in "zijn" territorium is. Alsof er niks gebeurd is.
Ik kan eindelijk mijn eigen viervoeterke terug gaan ophalen, die nu niet alleen denkt dat ik haar 4 dagen alleen heb gelaten, maar dan nog om mij hier te amuseren met een kat waarvan in het hele huis plukken haar liggen en waarvoor het bad als kattenbak fungeerde (zalig toch, nergens anders gedaan !)
 
Moraal van het verhaal:
• Check je huis, garage, tuinhuis, enz voor je op vakantie vertrekt op ongewenste bezoekers.
• Een kat die 4 dagen zonder eten of drinken is opgesloten, is misschien beetje versuft en uit haar doen, maar met het juiste lekkere hapje is die er zo terug bovenop. Nu ja, veel langer dan 4 dagen moet dat ook niet duren natuurlijk.
• Uit wetenschappelijke studies blijkt dat het territorium van een gemiddelde huiskat in een residentiele wijk typisch niet veel groter is dat 2 a 3 tuinen. Dus als de kat vermist raakt, dan is er grote kans dat ze ergens is opgesloten geraakt. Verwittig dus zo snel mogelijk de buren en vraag hen vriendelijk om even garage, tuinhuis, enz te checken.
• Laat uw kat chippen en registreren: deze "pluimstaart" heeft uiteindelijk zelf terug de weg naar huis gevonden, maar wegens het rotweer op dat moment hadden we hem eigenlijk liever thuis gaan afleveren. Maar zonder chip wisten we niet waar hij thuishoorde.

• Dezelfde pluimstaart wordt nog regelmatig gespot bij mijn zus in de tuin, maar sinds dit avontuur blijft hij braafjes binnen zijn eigen territorium (dat zich dus uitstrekt tot en met de tuin van mijn zus, maar zonder haar interieur).
 
Voor meer weetjes en verhaaltjes rond "territorium" en alles wat daarmee te maken heeft, nodig ik jullie graag uit voor de les van volgende week zondag 26 nov, om 14u. We hebben al een gezellig groepje deelnemers, maar wie wil kan nog steeds inschrijven. Alle praktische info vind je elders op deze website (gewoon doorklikken op de rubrieken bovenaan de pagina)