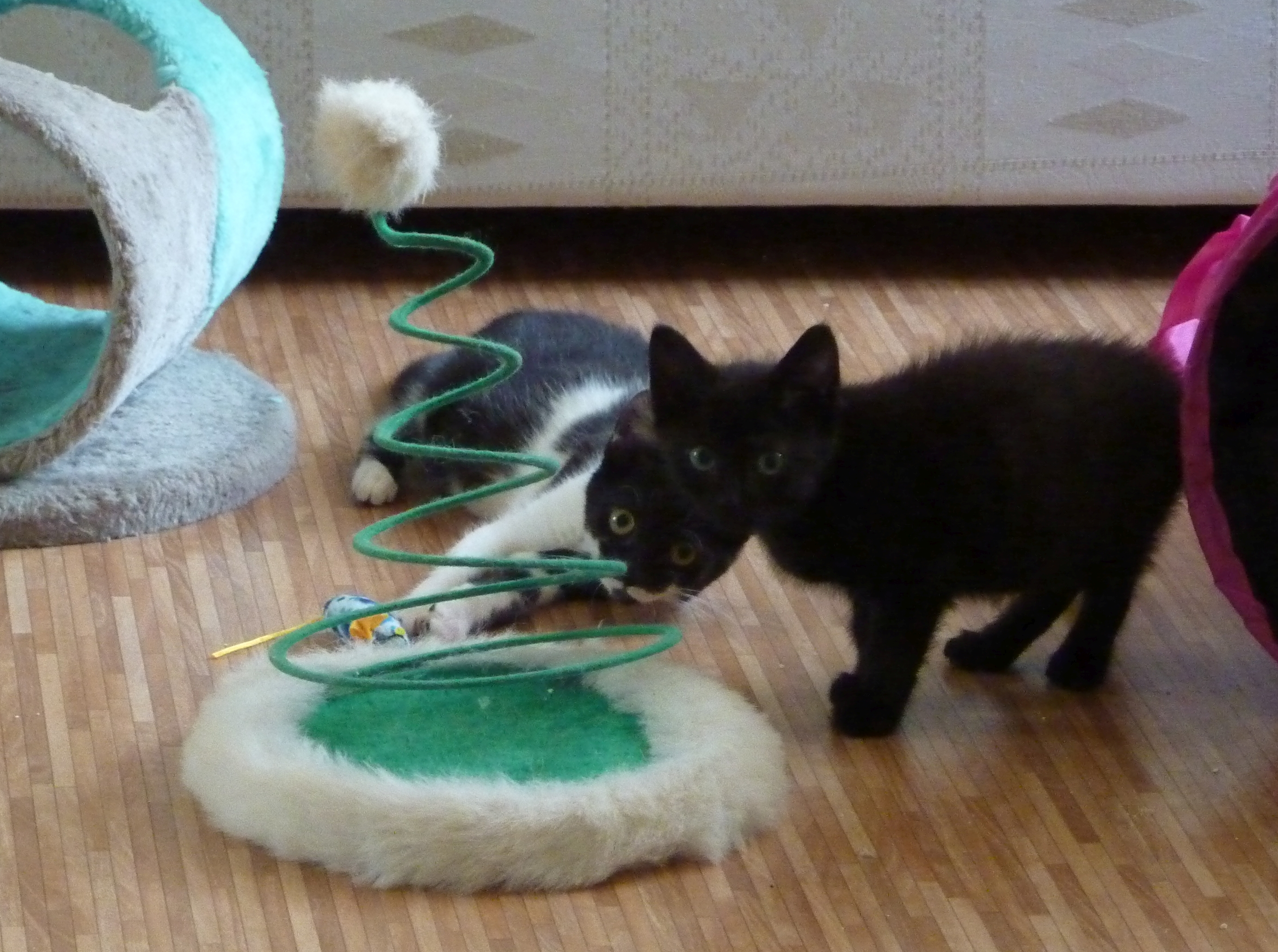 Om even met de deur in huis te vallen: mijn 2 nieuwste logeetjes heb ik Artoe & Ditoe gedoopt. Wie snapt em? En wie snapt em helemaal? Toegegeven, 't is echt wel een doordenkertje, en misschien eerder eentje voor insiders, dus hier komt het verhaal.
Sinds zo'n 1,5 week heb ik 2 nieuwe logeetjes in huis, opvangertjes van dierenasiel Canina, die hier komen "studeren" om flinke huispoesjes te worden, zodat ze daarna op zoek kunnen naar een gouden mandje. Deze 2 zijn gevonden bij een vrij grote groep zwerfkatten, maw ze zijn eigenlijk helemaal geen mensen gewend. Belangrijkste taak van het gastgezin (ikke dus) in zo'n geval, is om ze zo goed mogelijk te laten wennen aan de huiselijke omgeving, en vooral ook aan mensen. 't Is voor zo'n kleintjes een hele aanpassing, van een bos aan een visvijver waar ze zo goed als geen contact met mensen hadden, naar een huiselijke omgeving waar zo'n 2-benig monster rondloopt, met allerlei rare geluiden (TV, stofzuiger, kraan van het bad, haardroger, enz)
Wat je vooral nodig hebt in zo'n geval is, rara... geduld. En een stressloze aanpak: je wil nl de stress zoveel mogelijk beperken, want stress ondermijnt nu eenmaal de immuniteit. En zieke bangerikjes, dat kunnen we missen. Dus ja, in het begin mogen ze zich van mij verstoppen, want zo voelen ze zich veiliger. Het netto effect is dat de allereerste foto van nieuwe logeetjes typisch uitdraait op een foto van een stel bangerikjes onder het bed, met groene flitsoogjes.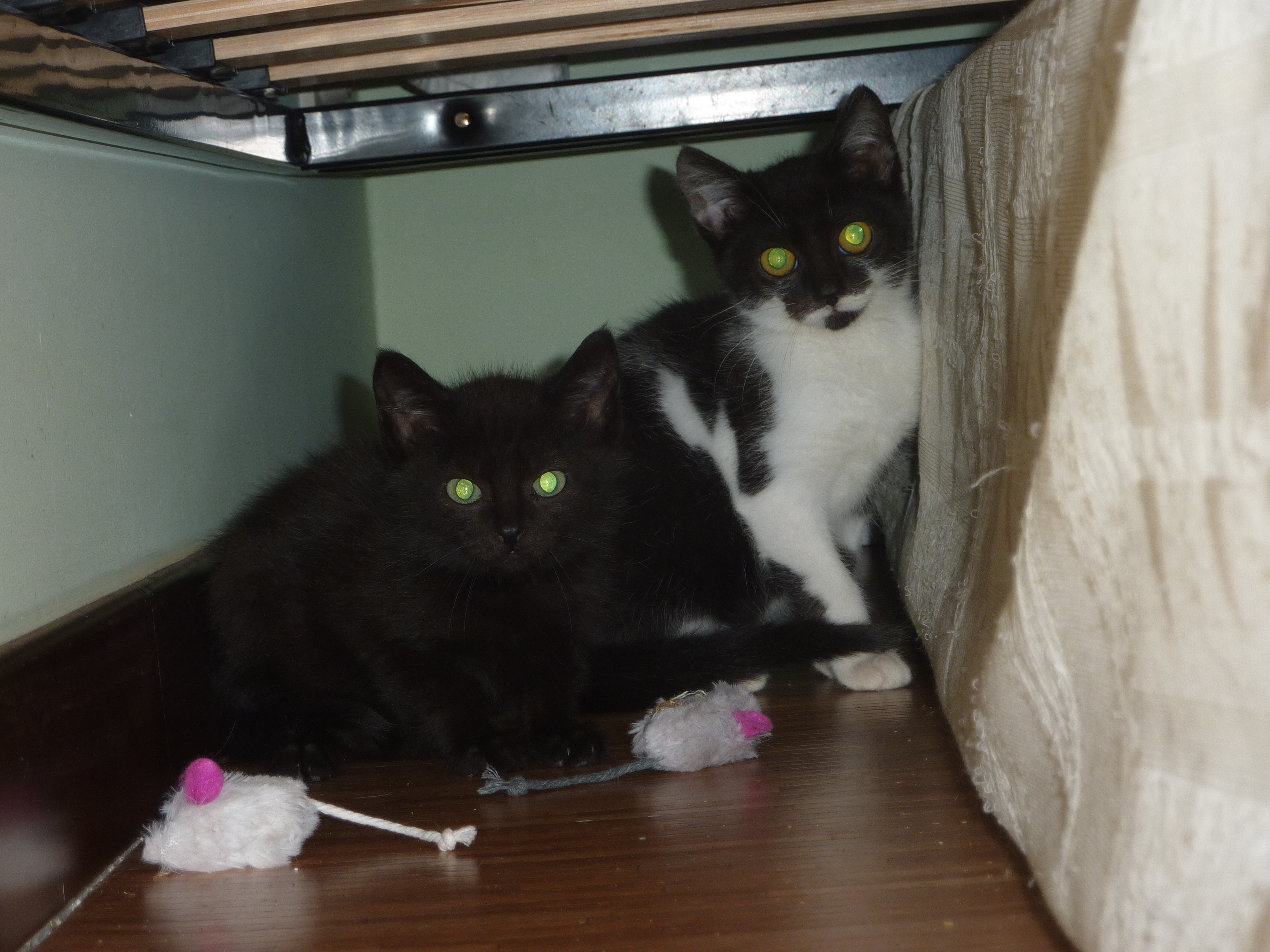 Weliswaar zorg ik ervoor dat er enkel "veilige" verstopplaatskes zijn. Dwz in geval van nood kan ik er toch nog aan, da's niet onbelangrijk natuurlijk. Maar goed, als je zo'n duo de eerste dagen niet te zien krijgt, hoe weet je dan of ze allebei gezonde eetlust hebben? Je kan wel zien dat er van de brokjes geknabbeld is, maar wie o wie heeft dat bordje leeggegeten? En dan komt R2D2 op de proppen. R2D2 is mijn in-huis bewakingscamera. En zoals de fans van Star Wars zullen beamen, die heeft zijn naam niet gestolen hoor.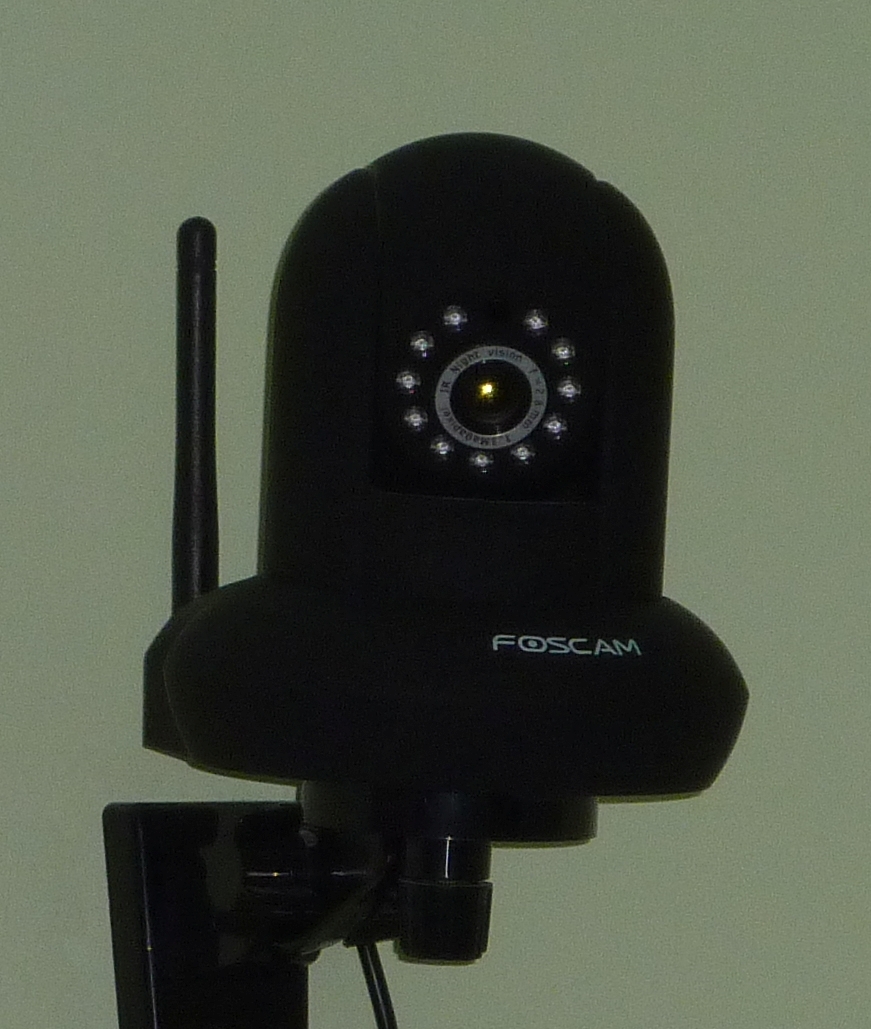 Zolang ze niet te voorschijn komen als ik in de buurt ben, dan gaat het rond etenstijd als volgt: er worden 2 bordjes natvoer gezet (tussendoor staan er permanent droge brokjes te beschikking), R2D2 wordt ingeschakeld, en ik hou vanuit een andere kamer met mijn PC de boel in de gaten. Als alles goed gaat, dan is R2D2 na een paar dagen of zo alweer werkloos, maar die eerste paar dagen is hij best wel cruciaal. En dus staan alle bangerikjes die hier komen logeren typisch de eerste paar dagen onder de hoede van R2D2. Als je dan voor zo'n duo op zoek moet naar unisex namen... jawel, dat werd dus Artoe en Ditoe. Hoezo unisex namen? Ha ja, er is geen enkele reden om hoogdringend "de kleur van de chochonnekes" te weten te komen, dus om de stress te beperken gaan we dat ook niet proberen. Dat zien wel later wel weer. Vaak is het daarvoor wachten tot ze afspraak hebben bij de dierenarts voor knipje en chipje.
Dus, ik heb R2D2 om hen in de gaten te houden. En in ruil krijgen zij hun "monsterkijkhut". Naar analogie met een typische vogelkijkhut of vogelkijkmuur die je wel eens in een natuurdomein vindt. Zij denken dat ik hen niet kan zien, maar ze kunnen wel net komen piepen onder de lattenbodem, en op die manier heel de dag dat 2-benig monster in 't oog houden dat daar 2 of 3 meter verder aan de PC zit. Leuk, zo'n monsterkijkhut.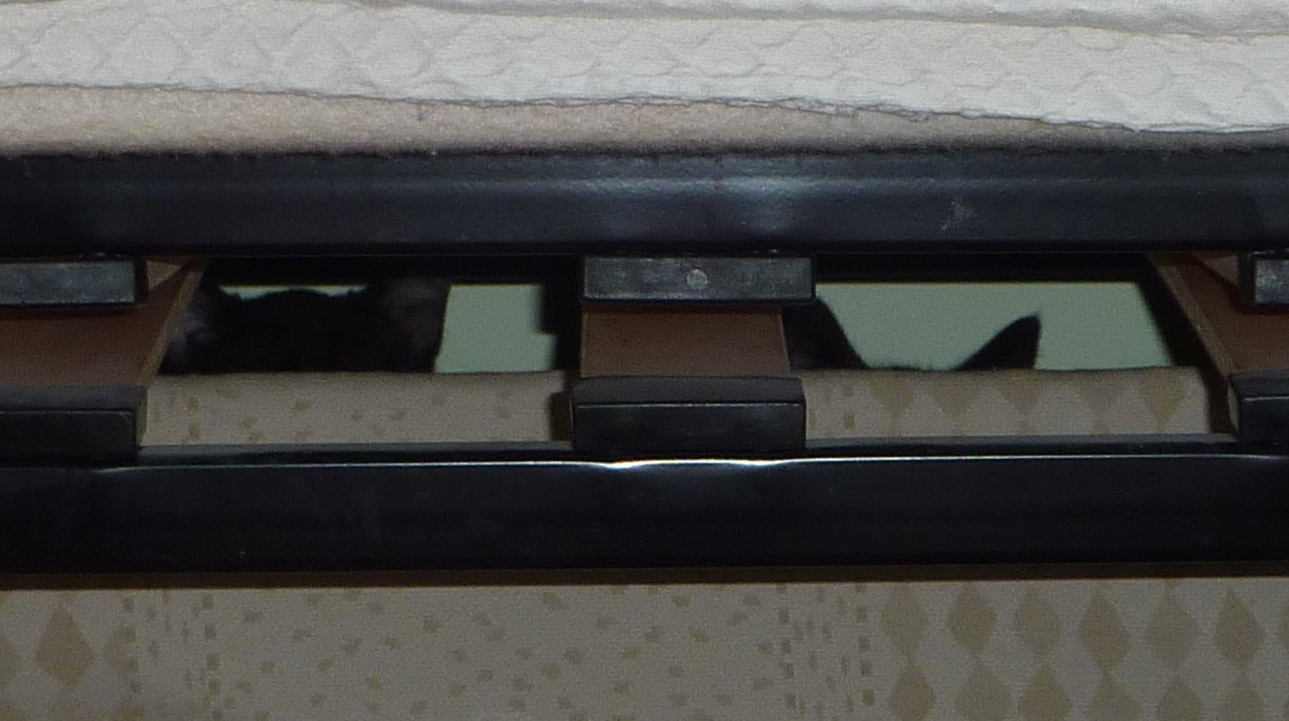 Na een tijdje valt dan wel de euro dat ik toch aan mijn PC blijf zitten, en geleidelijk komen ze dan wel vanuit dat schuilplekje te voorschijn. Da's het volgende stapje: dat ze in de kamer rondlopen en spelen terwijl ik in het zicht zit. Pas daarna gaan we aan de slag met hengelspelletjes en meer van dat. Da's dan weer voor een volgende aflevering van de blog.
Voor vandaag, even kort samengevat:
• Kleine bangerikjes willen zich verstoppen. En dat mag! Zorg voor veilige verstopplaatskes. Tip: bij gebrek aan logeerbed voldoet een kartonnen doos ook. Of een kattentunnel bijvoorbeeld. Hoe meer verstopplaatskes in een kamer, hoe sneller ze gaan durven op verkenning te gaan.
• Nog beter is een "monsterkijkhut", zodat ze de grote boze wereld in 't oog kunnen houden. Tip: een kartonnen doos met kijkgaten.
• Als je gastgezin bent, is R2D2 een superhandig hulpje. En die levert soms nog onverwachte leuke foto's op ook.