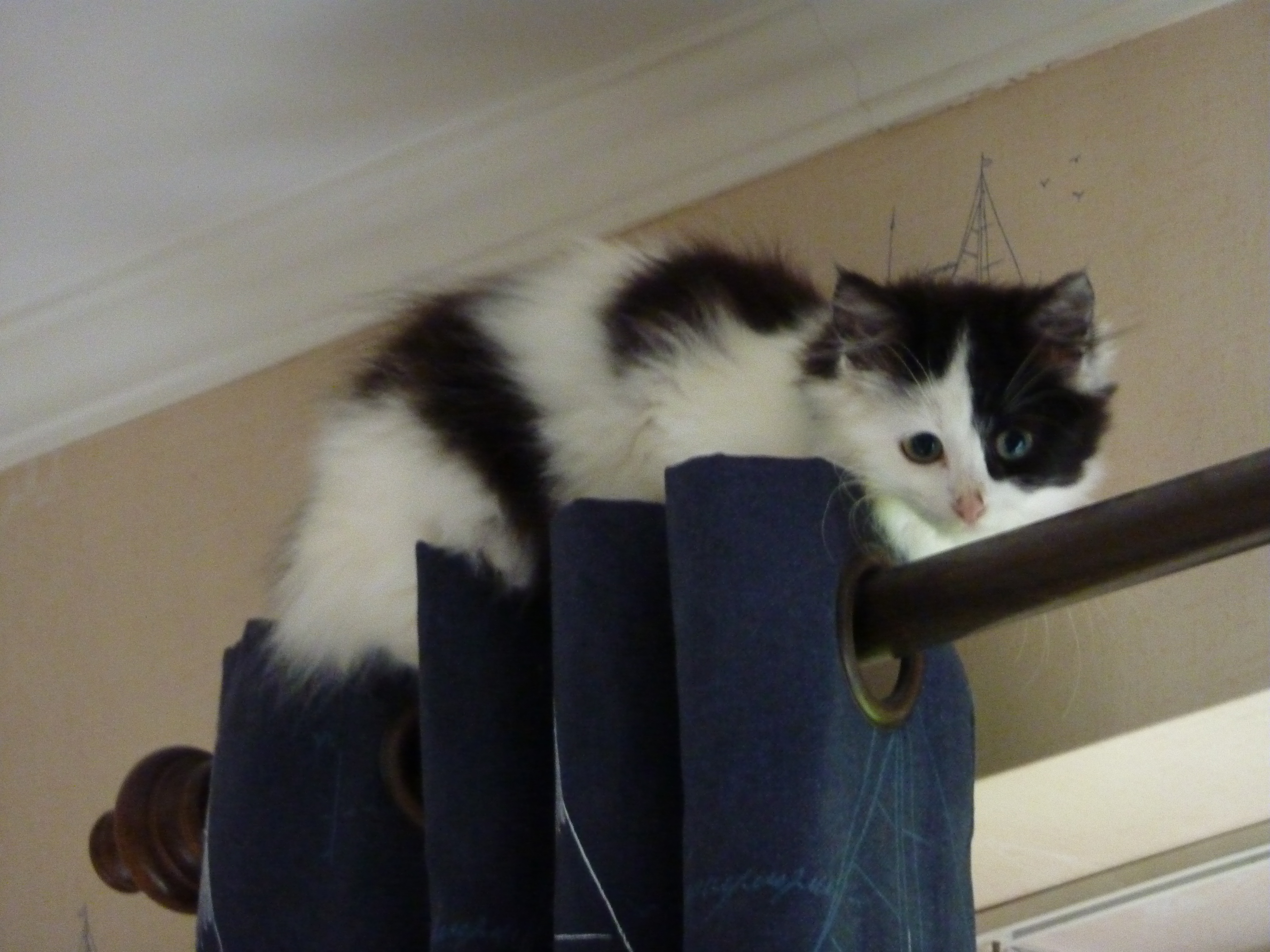 Sinds enkele dagen heb ik opnieuw 2 bange logeetjes onder mijn hoede. En al de eerste dag had er eentje ontdekt dat die krabplanken tegen de muur een heel leuke klimmuur opleveren. Nu ja, leuk... in dit geval (nog geen 24u na aankomst) was het duidelijk puur een instinctieve reflex om te vluchten, en zoals wel vaker is "naar boven" dan de favoriete richting. Zeker als je als zwerfkitten plots in een kamer zit met gesloten deur: "the only way is up..."
Voorlopig ging het niet hoger dan het krabplankje, maar de afgelopen jaren zijn er nogal wat voorgangertjes de gordijnroede gaan verkennen. Meestal gebeurt dat in de eerste paar dagen: hoe groter de stress, hoe hoger ze klimmen. En dan moeten ze ook "ploef" weer beneden geraken... Dat leverde dan weer inspiratie voor een naam (Ploefke); 't is ook niet altijd evident om leuke namen voor opvangertjes te bedenken he. Gelukkig staat er een sofa onder dat raam, dus ze komen wel weer veilig terug op de begane grond. Ondertussen heb ik al de goeie gewoonte aangekweekt om de gordijnen buiten bereik te hangen (lees even naar boven te knopen) wanneer ze bv naar de dierenarts moeten... een bang kitten in transportbakje proberen krijgen is natuurlijk steeds garantie voor een stevige portie stress, en dus verhoogd risico op klimpartijtjes. Het is me ook al overkomen dat de 1e opdracht van de dag is: haal dat kitten uit die gordijnen. Dat zijn er dan die nog niet goed wakker zijn, en plots schrikken als ik 's morgens de kamer binnenkom. 't Is eens wat anders om je dag mee te beginnen.
Het record gordijnenklimmen staat tot nader order nog steeds op naam van eentje uit "operatie poespoes". Dat hele verhaal komt zeker in een volgende blog-bericht nog wel eens aan bod, maar bij deze alvast het gordijn-hoofdstuk. "Operatie poespoes" was een vangactie waarbij mijn zus en ik, beiden volslagen leken als het over zwerfkatten vangen gaat, zelf een paar kittens en jonge katten gingen vangen; bij mijn zus om het hoekje. In samenwerking met het asiel natuurlijk, en met een vangbak die we van hen in bruikleen hadden gekregen. Omdat we onze skills niet erg vertrouwden (dat bleek een zeer correcte inschatting) om zo'n hyper-bange kat van vangbak in transportbak over te zetten, beslisten we om die overzet-operatie in een kleine gesloten kamer thuis te doen. Resultaat: de kat onsnapte natuurlijk... en bij gebrek aan verstopplaatskes kwam die al snel tot de conclusie "the only way is up". Het enige probleem daarmee was dat de ophanging van de gordijnen niet stevig genoeg bleek... 't was ook niet echt een klein kitten meer, maar een jong katje van 6 a 8 maand of zo. resultaat: zie foto. Ook deze is goed afgelopen hoor: we hebben ze naar beneden gekregen, en na nog 5 minuutjes paniek, met behulp van een handdoek toch in het transportbakje gekregen. En dan kon ze uiteindelijk terecht in de schuur van Canina. Want deze was spijtig genoeg al net ietsje te oud om nog te laten wennen aan een huiselijke omgeving. Het heeft wel – bij gebrek aan klusjesman – nog een hele poos geduurd vooraleer de gordijnen terug correct hingen.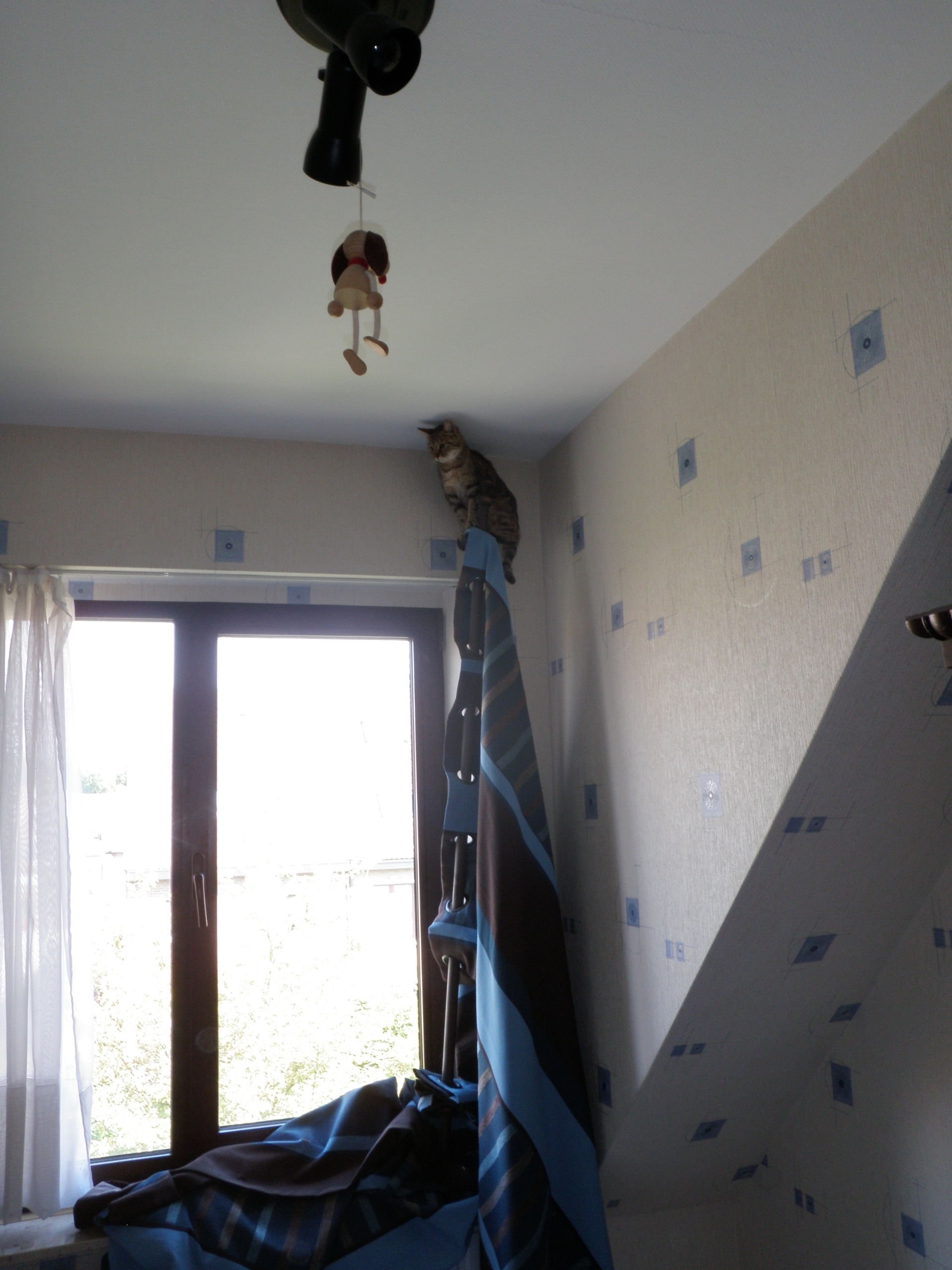 En wat hebben we nu geleerd uit al die gordijnverhalen?
• Katten zoeken het instinctief hogerop. Zeker als ze bang zijn.
• En ook als ze niet in de stress zitten, dan vinden ze een hoge uitkijkpost geweldig. Ideaal om je territorium te overschouwen.
• Dus als je je kat plezier wil doen, zorg er dan voor ze wel de gelegenheid hebben om te klimmen. En dat er veilige mogelijkheden zijn. Als de gordijn de enige optie is, dan gaan ze in je gordijnen zitten. Dus zorg voor betere opties.
• Zeker als je eerder klein behuisd bent, kan je veel extra territorium creeren met krab- en klimpalen, muurplankjes, vensterbankplankjes, enz. Doen!
• Probeer niet een kat af te leren om bovenop de dingen te springen "as such". Nu ja, wellicht wil je bepaalde plaatsen zoals het keukenaanrecht wel verbieden. Daar zijn trouwens oplossingen en technieken voor – dat komt zeker in de toekomst nog aan bod in de lessen van kattenschool "De Koddige Katjes". Maar het belangrijkste blijft dat je dan alternatieven aanbiedt die de kat wel als veilige uitkijkpost kan gebruiken.
• Als je gastgezin bent, zijn vouwgordijnen of rolgordijnen (die je dus vertikaal kan optrekken) handiger dan klassieke gordijnen die tot 5 cm boven de grond hangen.
• En als alternatieve klimpaal, wordt een kunstobject ook wel geapprecieerd (met dank aan een van onze adoptantes voor de foto, en de inspiratie voor dit blogberichtje)