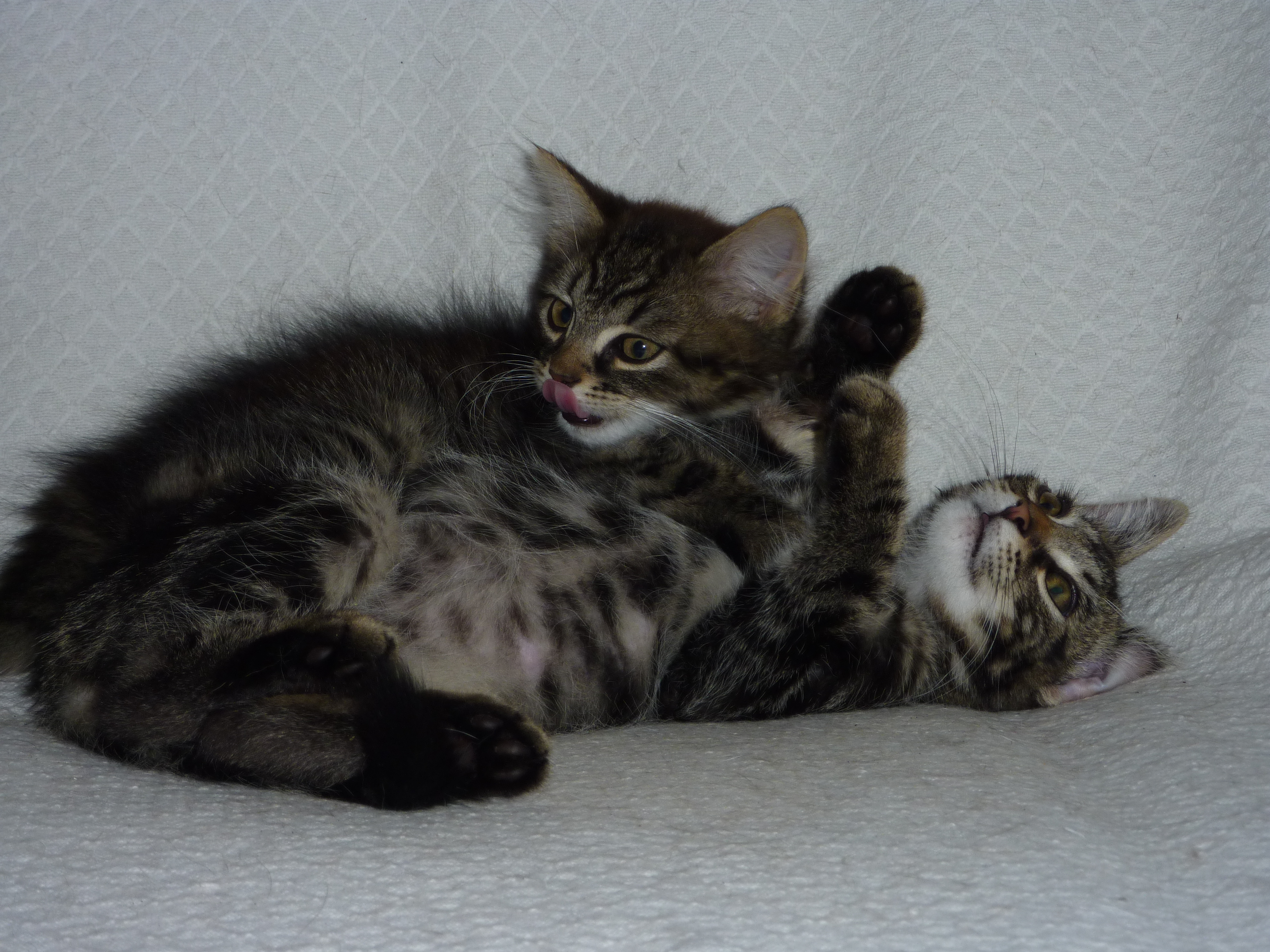 Hallo,
Hier gaan we dan. Mijn eerste blog experimentje. Dit wordt een blog reeks met een doel, en dit eerste berichtje dient een beetje als "voorwoord". Nu ja, niet al te ernstig nemen he. Vooreerst wil ik gewoon wat leuke verhaaltjes delen over de kittens die ik opvang. Dit voor alle fans die al sinds jaren de foto's en filmpjes volgen op mijn facebook-pagina. Zo krijg je ook de verhaaltjes achter de foto's. De verhaaltjes komen trouwens voor een groot deel uit de logboeken die ik van bij de start voor elk kitten heb bijgehouden, en ook telkens meegeef met de adoptanten.
Daarnaast – hou je vast want nu wordt het een beetje ernstig 
– deze blog sluit ook aan bij mijn kattenschool-projectje "De Koddige Katjes" (www.dekoddigekatjes.be), want met elk verhaaltje wil ik ook wat inspiratie geven om even na te denken over je eigen huistijgertje. Op die manier krijg je dan ook "proevertjes" van wat er in de lessen zoal aan bod komt.
Even kort de voorgeschiedenis voor iedereen die me niet (of nog niet zolang) kent. We schrijven 2013. Ik liep al een tijdje rond met het idee van "als ik ooit met pensioen ben, dan lijkt het me wel wat om gastgezin voor kittens te worden". Toen ik op bepaald moment een typisch opstootje van mid-life-crisis kreeg, en ik op de website van dierenasiel Canina een oproep voor gastgezinnen las met de melding "ook mensen met een fulltime job komen in aanmerking", heb ik beslist van niet op mijn pensioen te wachten, en ben ik in het avontuur gestapt. Ik had op dat moment 3 eigen katten en geen ambitie voor verdere permanente gezinsuitbreiding, maar wel voldoende ruimte in huis voor een paar extra logeetjes.
Ik maakte een paar duidelijke afspraken met het asiel over wat ik wel en niet zag zitten om op te vangen (geen papflessertjes aub, fulltime job weetjewel), en we gingen van start. Het eerste duo werd Jip en Janneke gedoopt. Het asiel had er 2 "gemakkelijke" uitgepikt, zoals ze steeds doen met beginnende gastgezinnen. 2 vrolijke bengeltjes, helemaal gezond (behalve dan een beetje prut in 1 oogje), en eigenlijk al bijna klaar voor adoptie. En ik had een deja-vu... want dit waren 2 tijgertjes, een mini-versie van mijn eigen eerste 2 katten. Hier komt de originele tekst uit de eerste dag van het allereerste logboek, 16 juli 2013:
********** start extract uit kitten-logboek *********
Ik haal de 2 kittens op in het asiel net voor de middag. Helemaal mijn eigen Stip en Streep in mini-versie. We draaien precies de klok 12 jaar terug…
Ze zien er gezond en levendig uit. Ze voelen zich direct thuis. Na 5 min heeft er al eentje een plasje op de kattebak gedaan, en na 10 min zijn ze al met de speeltjes aan't spelen.
Een van de 2 heeft een klein beetje prut in het rechteroogje (niet ernstig), ik besluit het even zo aan te zien en dan de volgende dagen wel te bekijken of er een zalfje aan te pas moet komen.
Ze krijgen de logeerkamer als thuisbasis (+bureelkamer erbij als ik daar aan de PC zit). Ze vinden het logeerbed geweldig om over te "vliegen" en mekaar achterna te zitten.
Ze worden voorlopig nog even gescheiden gehouden van mijn eigen katten. Maar het ziet ernaar uit dat beide partijen eigenlijk niet kunnen wachten om kennis te maken.
Ze hebben goeie eetlust. Plasjes en kakjes komen ook vlotjes (en allemaal perfect in de kattebak), ziet er allemaal gezond uit.
Mijn indruk: whatever men heeft verteld toen deze 2 werden afgeleverd in het asiel, dit zijn duidelijk geen bange verweesde zwerfkatjes. Heel ondernemend, en naar mensen toe hoogstens een beetje terughoudend, maar al vrij snel zoeken ze contact. Maw heel normaal gedrag voor kittens die in huiselijke omgeving zijn geboren en opgegroeid. Spelen met mekaar vinden ze wel leuker dan knuffelen met een mens.
************* einde extract uit kitten-logboek **************
En daarmee was het startschot gegeven. Na ongeveer 1,5 week zijn Jip en Janneke samen (met 2 samen is altijd leuker dan alleen!) naar hun gouden mandje vertrokken. OK, die 1,5 week bleek achteraf echt wel een record. Daarna zijn er nog veel opvolgertjes gekomen, en daarover kom je meer te weten in volgende blog berichtjes. Maar de basis-aanpak voor dag 1 is eigenlijk altijd onveranderd gebleven: ze starten allemaal in de logeerkamer, en zeker de eerste paar dagen hou ik ze apart van mijn eigen katten. De kattenbak is nog nooit een probleem geweest, ook niet bij de zwerfkatjes die later volgden. Je hoeft ze dat nooit te leren; je moet gewoon zorgen voor een "uitnodigende" kattenbak, en dan snapt zo'n dreumes vanzelf wel wat de bedoeling is.
Zo, bij deze is mijn blog-debuut een feit. Ik ben benieuwd of jullie het een leuke reeks gaan vinden.
Nicky